Show 3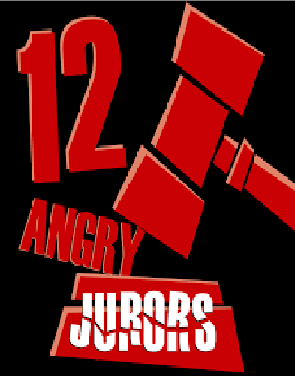 A dramatic play
by Sherman L. Sergei and Frances Hopkins-Maxwell
Adapted from the television script by Reginald Rose
Directed by Peter Curley
Produced by Steve Lemenille
Stage Managed by Barbara Ruban

12 Angry Jurors


12 Angry Jurors is a play that contemplates the huge responsibility of 12 ordinary people as they consider the guilt or innocence of a young man accused of murder. The 12 jurors bring their own histories, prejudices and biases to the jury room as they work through this life or death decision.
Mar. 11, 18, 24, 2, 2023 @ 8PM
Mar. 19, 2023 @ 2PM - Matinee
Tickets: $25.00



Cast and Production Members
| The Cast | The Production/Crew |
| --- | --- |
| Thi Nguyen as Juror #1 | Peter Curley Director |
| Joseph Jones as Juror #2 | Steve Lemenille Producer |
| Bill Barry as Juror #3 | Barbara Ruban Stage Manager |
| Renee Litwin as Juror #4 | Jeanne Lioy Properties |
| Judah Gray as Juror #5 | Linda Correll Set Design |
| Jose Rivera as Juror #6 | Jean Lioy Set Decor |
| Omar Ahmed as Juror #7 | TBA Props Ass't. |
| Ron Richardson as Juror #8 | Jake Malhosky Lighting Design |
| Sandra Lilly as Juror #9> | Jake Malhosky Lighting Operator |
| Greg Northam as Juror #10 | Jake Malhosky Sound Design |
| Eileen McShane as Juror #11 | Jake Malhoskyr Sound Operator |
| Ruth Kliwinski as Juror #12 | Steve Lemenille Publicity |
| Jeremy Gavaris as Court Officer | Karen DiFabio / Grace Sweeney Playbill/Marketing |
| | Steve Lemenille Webmaster |
| | Lois Stevens Box Office Director |
| | Ed Bontempo Costumer/Hair/Make-Up |
| | TBA House Managers |
| | TBA Ushers |
| | Steve Lemenille Photographer |
| | Stu Schnitzer Videography |
| | Linda Correll Set Construction |
| | TBA Set Construction |
| | TBA Set Construction |
| | TBA Set Construction |
| | |
| | |
| | |

BIOGRAPHIES
The Cast
THI NGUYEN

(Juror #1) Thi is thrilled to be included among this talented cast. She began her career in show biz as a page for NBC where she worked on 'Saturday Night Live', 'The Conan O'Brien Show' and 'The Rosie O'Donell Show'. While living in New York, she made her stage debut at the historic Thirteenth Street Repertory Company and also worked on ABC's television show Spin City, before moving to Los Angeles to continue her career. In LA, she landed roles on the show Will & Grace, among others in TV and film while studying under acting coach Aaron Speiser. Thi would like to thank her husband and three kids for their support and for helping her learn her lines. Break a leg everyone!


JOSEPH JONES

(Juror #2) Joseph Jones is pleased to make his first appearance at Westfield Community Players. Joseph was most recently Kitten Meows in the production of Murder Gurl, What a Drag! at Dover Little Theater. Other productions across three states include Raisin in the Sun, Almost Maine, Legally Blonde, Crimes of the Heart, First Night, Death of a Salesman, and Home Grown. When not indulging his passion for the stage, Joseph can be found playing with his cats or not finishing his novel.


BILL BARRY

(Juror #3) Bill is pleased to be making his debut with Westfield Community Players and to be working with such a talented cast and crew. Bill recently appeared in the role of Arthur Conan Doyle (Best Actor Nominee) in the 2022 NYC Theatre Festival Production of Holmestead, written by Jim Broderick and directed by Bruce Benway and as John Proctor in the Heights Players Production of The Crucible, directed by James Martinelli. Other favorite roles include Lee in Jumbo Productions' version of Sam Shepard's True West and Chuck (Outstanding Actor nominee, 2020 Perry Awards) in the Studio Playhouse original production of Complete Game. He would like to thank his beautiful wife for her love and support.


RENEE LITWIN

(Juror #4) Renee Litwin is very excited to be returning to the WCP stage where she has performed since 1994. Thanks to Peter, the cast and crew. It has been great serving jury duty with all of you. Hi Ken!


JUDAH GRAY

(Juror #5) Judah Gray is an 18-year old first year Kean University student with a love for the arts. Being a musician, singer, actor, writer, and film maker, he is extremely multi-talented and has big plans for a future in the world of entertainment.


JOSE RIVERA

(Juror #6) Jose A. Rivera is thrilled to make his third appearance on the Westfield Community Players stage, after previously appearing in Night Watch and The Man Who Came to Dinner. Other local credits include CDC Theatre (Bar Manolo) and InterACT Theatre Productions (Amityville '74, A Funny Thing Happened on the Way to the Forum, Once Upon a Mattress). He is grateful to director Peter Curley and the entire 12 Angry Jurors cast and crew for this terrific experience. And as always, thanks to his wife Michelle and daughter Grace for their continued love and support.


OMAR AHMED

(Juror #7) Omar Ahmed is a relatively recent entrant to the acting world. At 25 he has an Associates in Theatre Studies from RVCC, where he first started his acting journey. Having spent three pandemic-affected years learning how to survive on stage in various productions, including full length plays, 10-minute theatre pieces, as well as, student lead original work, he is thrilled to be making his live community theatre debut at Westfield Community Players. He is currently continuing his theatre training at Rutgers University working with both BA and BFA programs, on plays such as Craig Lucas' Reckless and Pedro Calderón de la Barca's Life is A Dream. He fully plans on continuing to seek opportunities at the community theatre level in the coming months and years. He very much looks forward to continue developing as an actor, both professionally and on a personal level. He is grateful to Peter, as well as, the entire cast and crew of 12 Angry Jurors for the opportunity to be a part of this production. He hopes you enjoy the show."


RON RICHARDSON

(Juror #8) This is Ron's first production with the Westfield Community Players. His most recent theatrical outings were American Son (Lt. Stokes) at The Barn Theatre in Montville, The Trip To Bountiful (Sheriff) and An Enemy of the People (Mayor Stockman) in Maplewood with the Strollers. He performed in Othello (Othello) at The Lord Stirling Theater Company in Basking Ridge. At the Summit Playhouse he performed roles in Driving Miss Daisy (Hoke) and in Superior Donuts (Officer Hailey). He performed at the Chatham Playhouse in To Kill A Mockingbird (Rev. Sykes). Among the other theaters at which he's performed are The Jean Cocteau Repertory, NYC, The Denver Center for Performing Arts, the American Theatre of Actors, NYC, and the Slightly Off-Center Theatre, Denver. Ron studied acting with Herbert Berghof, Elizabeth Dillon, and Zina Jasper in NYC.


SANDRA LILLY

(Juror #9) Since retiring as an AT&T manager, I have been "bitten by the acting bug." I am always very excited and grateful for an opportunity to be part of bringing a play to life. I am from upstate New York (Saratoga Springs, Troy and Albany), graduated from Buffalo State University with a B.S in Social Work and later, earned a M.A. in Education from Seton Hall University. It's always been my goal to improve the quality of life for others throughout my professional career. I think in Twelve Angry Jurors, juror No. 9 and I share the same ideals - to help individuals, families and communities. I have had the good fortune of being cast in drama, comedy, mystery and radio play genres. One of my favorite roles was playing Mrs. Muller in the play Doubt, for which I received a Perry Award nomination as Outstanding Featured Actress in a play. It was thrilling to be nominated and motivated me to always give my best effort in every performance. Besides acting, I enjoy playing the piano, dancing, traveling and watching romantic comedy movies - I just love happy endings! .


GREG NORTHAM

(Juror #10)Greg Northam (Juror #10) is delighted to be working at Westfield Community Players for the first time. He has been performing in theatre for over thirty-five years in Philadelphia (studying at the Walnut Street Theatre with actress Drucie McDaniel), Northern & Southern New Jersey as well as in his native Virginia. He has had the great opportunity to play a variety of roles from devoted husbands to a drunk to a lusty priest to even a vampire lesbian.

Theatrical credits include: Man in the Chair (The Drowsy Chaperone), Candy (Of Mice & Men), Hilly (Clark Gable Slept Here), Hermann VanDaan (The Diary of Anne Frank), Henry Saunders (Lend Me a Tenor), Ben Hubbard (The Little Foxes), Ed Devry (Born Yesterday), Frank Strang (Equus), Boss Man (Retirement Mob), Henry Benish/Lord Dudley (Play On!), LaCondessa (Vampire Lesbians of Sodom), Arnold (Torch Song Trilogy), Mr. Bardolph (Lettice & Lovage), David Crampton (Morning's at Seven), Arthur Duncan (Pterodactyls) & most recently DeLacey in Frankenstein. Greg had the opportunity to perform at the 2002 Focus! International Theatre Festival in Holzhausen, Austria as Geronte in the comical farce Scapin. Television/Video credits include: And Just Like That, Extrapolations & Empowered Survivor.

He & his partner Peter Artale produced six highly successful virtual shows under their banner Virtual Studio Players during 2020-21: Lettice & Lovage, Bloody Jack, Morning's at Seven, Prisoner of Second Avenue, Picasso at the Lapin Agile & Steel Magnolias. In addition to directing the virtual plays, Greg also directed the world premiere of Portraits in Philadelphia as well as the drama Bearclaw by Timothy Mason.

Greg is a two-time PortFolio Award nominee for his performances as eight men, two women & a dog in Greater Tuna & as Abashai in Captains & Courage. As Ernie Cusack, he won the Best Actor Award for Rumors in 2016 at Burlington County Footlighters.




EILEEN McSHANE

(Juror #11) Eileen grew up in Ireland and moved to the US in 1998. Eileen performed in a Dublin based drama group for 5 years and attended amateur drama festivals around Ireland in her early 20s. International travel, marriage and kids took center stage for a while and Eileen returned to acting around 10 years ago. Eileen has performed in multiple roles in the last 10 years at a number of local community theaters including Summit's Stony Hill players as well as Basking Ridge Trilogy Repertory and Lord Stirling Theater Company. Her most recent performance as Big Mac in Unnecessary Farce was one of her favorite roles. This is Eileen's first time performing with Westfield Community Players and hopes it won't be her last! Thanks to a great cast and crew for a great experience! Eileen would also like to thank her husband and children for their support for her love of amateur drama - making alternate arrangements as she needs the car to get to rehearsal and for their support in attending her performances and pursuing her love of amateur drama! Eileen hopes you enjoy this great play and thanks you for your support of the arts!


RUTH KLIWINSKI

(Juror #12) Ruth is thrilled to be back at WCP! She was last seen in The Dining Room and is grateful to be part of this talented cast. Some memorable roles that Ruth has been honored to portray are: Jesse Mae Watts in The Trip to Bountiful - The Strollers; Claire Gantz in Rumors - Trilogy Repertory; Gayle and Hope in Almost, Maine - St Anne's Stages; Antipholous of Ephesus in A Comedy of Errors - Trilogy Repertory; Maria in Shows For Days - Nutley Little Theater; Faye Medwick in Chapter Two at Radburn Players and Mindy McClure in Five Women Wearing the Same Dress at Nutley Little Theater. Ruth thanks Peter, Steve, Barbara and the whole production team at WCP – enjoy the show!


JEREMY GAVARIS

(Court Officer) From Union County NJ, some may know me as a local coach and fitness trainer. I am new to not only the WCP but to acting and I am excited to be a part of my first show! Ever since taking an acting class years ago in college, I have had an interest in doing local theater. As a musician I have always had much respect and admiration for performance arts. It is a pleasure to be a part of such a talented cast and classic play.


Production Staff
PETER CURLEY

(Director) Peter is ecstatic to be back at WCP. He has performed as an actor in 12 WCP productions including Death of A Salesmen, Fools, Don't Drink the Water, Hot L Baltimore, Mr. Roberts, Almost Maine, The Man Who Came To Dinner, One Flew Over The Cuckoo's Nest, Rehearsal for Murder, Midsummer Night's Dream, Streetcar Named Desire, and A View From The Bridge. His Stage Manager credits at WCP include A Man For All Seasons, Play On, and " The Dining Room. His previous Directing credits from other theaters include Leading Ladies, Play On, Rumors, Ken Ludwig's Treasure Island, The Boar, Union County Performing Arts Center- Kicking and Swearing Original One Act Festival including What It's Like To Be A Bat, 12th Draft, The Sentence, and Good Luck Charm and Trilogy Repertory Children's Traveling Library Theater shows- Dinosaur Play, Dorothy and The Wizard of Oz, Treasure Island, Brementown Musicians and Cinderella.





STEVE LEMENILLE

(Producer) Steve has directed WCP's productions of Dial 'M' for Murder, A View from the Bridge, the comedy Squabbles, {p r o o f}, Barefoot in the Park, A Thousand Clowns, And Then There Were None, Mister Roberts. And last season, The Runner Stumbles. In 2013 Steve was nominated for a NJACT Perry Award for OUSTANDING DIRECTOR OF A PLAY for {proof}. He also has appeared in six consecutive productions here at WCP.

Steve has been involved in theatre since his college days at Jersey City State. He is a retired Social Studies teacher and Drama Director of 29 years with the Hackensack Public Schools. Steve was also a MFA candidate at Montclair State. He has acted with Tower Players and the Opera Workshop of Jersey City, StageCrafters (Fairlawn), and Bergen County Players. He has also acted in dinner theatre for Regal Productions.

Some of the roles he portrayed were: Otto Frank in The Diary of Anne Frank (Tower Players), the Grandfather in The Long Christmas Dinner (Tower Players), Ulysses in Tiger At The Gates (Tower Players), Paul Verrall in Born Yesterday (Bergen County Players), Paul in Barefoot in the Park (Fairlawn), and Michael in Second Time Around and the Inspector Paul Sevigne in A Shot In The Dark (Regal Productions) and the Grandfather in Kurt Wiell's Down in the Valley (Opera Workshop). Steve portrayed Theseus in A Midsummer Night's Dream, Stanley in Death of a Salesman, The Magistrate in Fools, and Gen. Oscar Fairfax in Little Mary Sunshine and Kilroy in Don't Drink the Water, and most recently as Daniel in Almost, Maine…all for WCP. Steve was nominated for a 2009 NJACT Perry Award for OUTSTANDING ENSEMBLE MEMBER for his role as the Magistrate in Fools.

His directorial credits include: You Can't Take It with You, Harvey, The Man Who Came to Dinner, Gramercy Ghost, George Washington Slept Here, L'il Abner, The King & I, Oklahoma, The Sound of Music, The Diary of Anne Frank, Our Town, South Pacific, The Music Man, Rehearsal for Death (all for HMS), Dial 'M' for Murder (Stagecrafters/WCP).

Steve was nominated for two (2) 2012 NJACT Perry Awards for OUTSTANDING PRODUCTION OF A PLAY (As Producer for Rehearsal for Murder) and as OUTSTANDING FEATURED ACTOR IN A PLAY (Rehearsal for Murder). Steve was also nominated for two (2) NJACT 2011 Perry Awards: OUTSTANDING SUPPORTING ACTOR in a Play for his role as Justice Lawrence Wargrave in Main Street Theatre's production of And Then There Were None, and OUTSTANDING FEATURED ACTOR in a Play for his role as Isaac Cohen in Westfield Community Players production of Abie's Irish Rose.

Steve is the immediate Past-President of WCP, as well as, the webmaster here at WCP. Steve wishes to thank his wife, JoAnne, for getting him back involved with theatre. "Without her support and love, I can accomplish little. Thank you dear!!" Steve also thanks Sherrie Ahlin and Drude Roessler for making his WCP experiences very special. A special note of thanks to Katie, Mike, JoAnne, Glenn, Bill, Ed Whitman and Ed Bontempo for their contributions at WCP. And of course special thanks to this Cast/Crew for their hard work and love of theatre.

Steve has also performed at the Grove Street Theater in Montclair performing in Apricot Productions' 1-act series. Also, he has appeared in a series of monologues entitled Sex, Relationships and Sometimes… Love at The Old Library Theater, Main Street Theater Company; and at the Producer's Club and the Jerry Orbach Theater, both off-Broadway, NYC. Steve also directed Harper Lee's classic To Kill A Mockingbird and Sharr White's The Other Place at the Union County Performing Arts Center (UCPAC) on the Hamilton Stage, in Rahway, NJ for Fearless Productions.

Steve was inducted into NJACT's Hall of Fame for Directing. Steve was recently awarded with the David P. McMenemie Award from NJACT at the 2022 Perry Awards.




BARBARA RUBAN

(Stage Manager) Barbara started with WCP as a property master. She received a Perry Award nomination for the production of Angel Street, one of the many shows she worked on. She then branched out into stage managing. numerous shows. Having been on stage herself a few times, she would rather leave the acting to the pros and enjoys being backstage and taking part in the development of a play from the written word to a live production. Barbara also wrote two plays which were performed at WCP and in addition,one, Speed Dating, was performed in Chatham in the Jersey Voices Festival. She has assisted in set decoration, costumes and, with the help of some of our technical and administrative members, and with Joanne Lemenille and Jessica Foerst by her side, organized five fun and successful yearly Talent Showcases at WCP, which gave local talent a platform to perform. She previously served on the Board of WCP as Director of Performance and VP of Productions. A legal assistant by day, Barbara thanks WCP for allowing her the chance to express her creative side for all these years. She thanks her family for their love and support of her endeavors, which makes it all more gratifying.


JEAN LIOY

(Director of Performances / Properties Set Decor) Jean is a retired professor of microbiology at Union County College and also Rutgers/UMDNJ. She also has been a consultant with the NJ Office Of Homeland Security in the area of bioterrorism and emergency preparedness.

Being new to WCP, she is very thankful for the opportunity to learn about the backstage world of the theater.

Jean currently serves on the Board of Directors as Director of Performance. Most recently Jean has been nominated for a NJACT Perry Award for Outstanding Properties in a Play for On Borrowed Time.




JAKE MALHOSKY

(Lighting/Sound designer/operator) Jake Malhosky is a high-school senior who found a love for theater at a young age. This will be Jake's 4th show at WCP and his 12th show in his career but only the 2nd one he has designed. Jake has been on and off stage throughout his 12 shows which earned him the name by his theater teacher "The Jake of All Traits". Jake has been accepted into four college theater programs and plans on a career as a theater teacher.


KAREN DiFABIO

(Playbill/Marketing) Karen made her acting debut as Nurse Flinn in WCP's production of One Flew Over the Cuckoo's Nest and then appeared in The Man Who Came to Dinner. She also assisted her time to assist Ed Bontempo with costumes. Karen currently serves on the Board of Directors as Director of Playbill and Marketing. .

STEVE LEMENILLE


(Webmaster / Publicity / Prodcuer) See above.
LOIS STEVENS

(Box Office) This is Lois' fourth production for which she has participated. Lois has also served as House Manager. She is one of our newest volunteer members.


ED BONTEMPO

(Costumes) Aside from portraying the role of Beverly Carlton in the production of The Man Who Came to Dinner, Ed has taken on the responsibility of being the costumer, including hair and make-up for this production.

Ed Bontempo in 2018 received two NJACT Perry Award Nominations: Outstanding Featured Actor in a Play Mister Roberts and Outstanding Costume Design of a Play Mister Roberts. He was the recipient of Outstanding Costume Design.

As of our 2018-2019 season, Mr. Bontempo was nominated for a NJACT Perry Award for Outstanding Costuming of a Musical for Follies




TO BE DETERMINED

(Stage Crew) To Be Developed.


LINDA CORRELL

(Set Construction Chairperson) has been involved in theater for many years in and around New Jersey and New York. It is a pleasure working with this talented group. Thank you to Jeanne, our wonderful director, and WCP for staging A Man for All Seasons. Linda built the sets for Black Coffee, The Dining Room, Play it Again, Sam, and Play On!, and is proficient in stage pyrotechnics. A performer since she was 13, she has played Abby in Musical of Musicals, the Musical (Nutley Little Theater), Lillian Le Fleur in Nine! (UCPAC), Carla in Phantom of the Opera (UCPAC), Marta in Thumbs! (Bergen County Players/world premiere). Her absolute favorite role is John's "other half". AML, AML