Show 2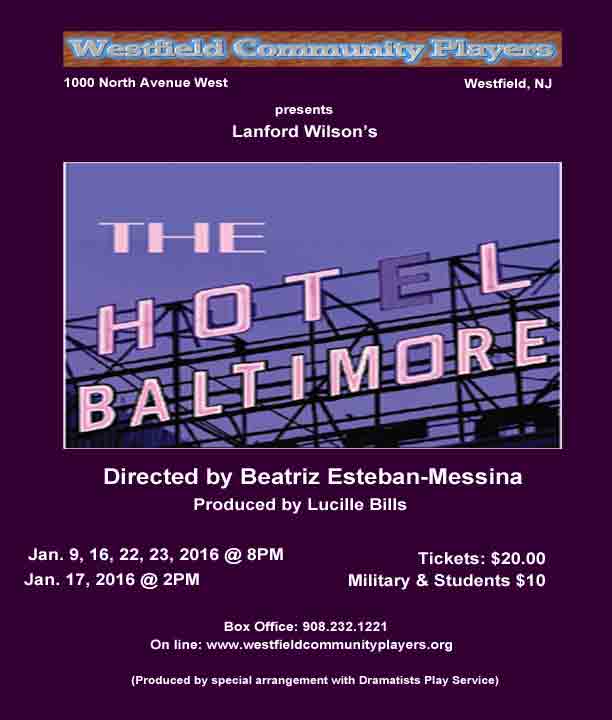 poster adapted by: slemenille


A funny and sad drama
Directed by Beatriz Esteban-Messina
Produced by Lucille Bills
Hot L Baltimore

The scene is the lobby of a rundown hotel so seedy that it has lost the "e" from its marquee. As the action unfolds, the residents, ranging from young to old, from the defiant to the resigned, meet and talk and interact with each other during the course of one day. The drama is of passing events in their lives, of everyday encounters and of the human comedy, with conversations often overlapping into a contrapuntal musical flow. In the resulting mosaic each character emerges clearly and perceptively defined, and the sum total of what they are—or wish they were—becomes a poignant, powerful call to America to recover lost values and to restore itself in its own and the world's eyes.
Jan. 9, 16, 22, 23, 2016 @ 8PM
Jan. 17, 2016 @ 2PM
Tickets: $20.00; Active Military Personnel & Students: $10.00



Cast and Production Members
| The Cast | The Production/Crew |
| --- | --- |
| Leslie Riccie as Mrs. Bellotti | Beatriz Esteban-Messina Director |
| Sabrina Iacobellis as the Girl | Lucille Bills Producer |
| Mike Petritsch as Paul Granger III | Barbara Ruban Stage Manager |
| Jeanette Ricci as April Green | JoAnne Lemenille Properties |
| Roxanne Guarino as Jackie | Bill McMeekan Set Design |
| Matt Coakley as Jamie | JoAnne Lemenille Set Decor |
| Peter Twill as Mr. Katz | Barbara Ruban Set Decor |
| Peter Curley as Bill Lewis | James Dukelow Lighting Design |
| Linda Correll as Millie> | James Dukelow Lighting Operator |
| Kate Murray as Suzy | Glen Crane Sound Design |
| Scott Avery as Mr. Morse | Michael Bieber Sound Operator |
| Al Contursi as Mr. Oxenham | Barbara Goldstein Publicity |
| Al Contursi as Suzy's john | Jessica Foerst Playbill |
| Phil Sarpong as Cab driver | Steve Lemenille Webmaster |
| Noah Sokolsky as Pizza delivery boy | Renate Bieber Box Office |
| | Doris Dias Costumes |
| | TBD House Managers |
| | TBD Ushers |
| | Kevin Coulson Stage Crew |
| | Steve Lemenille Photographer |
| | George Hiltz Set Construction Chairman |
| | Bob Smith Set Construction |
| | Sal Villani Set Construction |
| | Paul Kirsh Set Construction |

BIOGRAPHIES
The Cast
LESLIE RICCIE

(Mrs. Bellotti) is thrilled to be back at WCP! Leslie, a longtime member of Cranford Dramatic Club, served as Producer for last season's productions of Sweeney Todd and How to Succeed. Whether it's Props Mistress or Stage Manager, Leslie is content backstage, as well as, onstage. Leslie's acting credits include Almost, Maine (Hope), Regrets Only (Myra Kesselman), Vanities (Joanne), Private Lives (Sybil), Caucasian Chalk Circle (Mother in Law), Dracula (Mrs. Harker), The Mousetrap (Mrs. Boyle), Gypsy (Tessie Tura). Thank you for the opportunity to be a part of this most talented cast! Special thanks to my family & friends for their love & continued support!!


SABRINA IACOBELLIS

(the Girl) currently attends Rider University. Her theatre credits include, Halloran in Miracle on 34th Street, Miss Cratchitt in Gypsy, and Bertha in Little Red Robin Hood. She was the assistant choreographer for the Performing Arts Academy's production of A Funny Thing Happened on the Way to the Forum and the dance captain for Jackson Liberty's production of Gypsy. Her background credits include, Netflix's Daredevil, Damn You, Roland Ruby! and The Volunteer.


MICHAEL PETRITSCH

(Paul Granger III) Mike is very excited to be in the WCP Production of The Hot L BALTIMORE. Mike has been in previous shows such as SPSDW's production of The Wizard of Oz as the Lion, SPSDW production of Sheriff Earl in All Shook Up, Algernon in the Importance of being Earnest, Big Jule in Guys and Dolls, and Ricky in Who Killed Aunt Caroline? Mike is taking a year off from school to work and is planning on going to school for performing arts this coming year. Mike is excited to pursue acting and has a love and passion for entertaining others. Mike would like to thank his family for supporting him all these years, for his friends for being awesome, and Mike would like to thank himself for pushing himself to do great things. Mike looks forward to the future with hope and excitement and can't wait for what it has in store for him. Lastly, Mike wants to thank the director Beatriz Esteban-Messina, the producer Lucille Bills, and the stage manager Barbara Ruban for being welcoming and supportive of this program. Mike also wants to thank the cast for being great to work with and a cast that is talented. Mike wants to tell everyone in the cast and crew to break a leg and Good Luck!


JEANETTE RICCI

(April Green) made her Westfield Community Players debut as Ginette in Almost, Maine last season. She wants to thank Beatriz for the opportunity to work and play with such a talented group. Other credits include Heidi in Fuddy Meers, The Witch in Once Upon a Pandora's Box and Sharon in Play It Again, Sam. Jeanette currently works as an Academic Specialist at Kean University and thanks God for His presence in her life.


ROXANNE GUARINO

(Jackie) Roxanne Guarino is an actress and playwright, currently working as a copywriter. Her play Autonomy, a piece on raising awareness of sexual assault on college campuses, had its world premiere in June, 2015 at Manhattan's Clarion Theater and was produced by the Outcast Theater Company. This is her first show at Westfield Community Players. Past roles include Gillian Ravenscroft in Ravenscroft at Piscataway's Circle Players, and Rachel in Reckless and Maggy in Joined at the Head at William Patterson University. Much love to Mom, Dad, Joel and all my wonderful friends and family. "The only secret, if there is one, is not giving up." - Maurice LaMarche


MATT COAKLEY

(Jamie) Matt is making his WCP debut with this production, and he is thrilled to be a part of it! Past theatre credits include Gary Sullavan in Sister Mary Ignatius Explains It All for You, Conroy in Pizzazz, Tuzenbach in Chekhov's Three Sisters, and Duke Orsino in a rock opera production of Shakespeare's Twelfth Night. Education: Messiah College (BA in Theatre), National Theatre Institute, Gaiety School of Acting, New York Film Academy. Special thanks to Amanda and Eleanor.


PETER TWILL

(Mr. Katz) This is Peter's first appearance with WCP. Peter has been with Stony Hill Players in Summit since 2007. His last role was Roger in The Get Together with Act IV in Plainfield. Peter also played Al in Play On last spring. Other roles Peter appeared in was Agatha Christi's The Rat, Afternoon at the Seaside, Cards on the Table, A Man for All Seasons, Murder at the Vicarage, Your Can't Take it With You and many other supporting roles. He studied with Jaqueline Kabat, Intermediate Comedy in New York. Peter is employed with Ace-Twill Printing Services in Berkeley Heights, affiliated with the Drama League of New York, is a Life Member of the Summit LIONS Club, is on the Board of Advisors with the Summit Area YMCA and co-anchors Hometowne TV News on Fios 33. Peter thanks his family, director, fellow actors and all the members of SHP and Act IV, for their support.


PETER CURLEY

(Bill Lewis) Peter is quite pleased to be back on stage at WCP. Previous credits at WCP include "Steve" in Almost Maine [2015], "Pablo" in Streetcar Named Desire [2014], "Leo Gibbs" in Rehearsal for Murder [2012], "Mike, Immigration Officer" in View From the Bridge [2011], "Axl McGee" in Don't Drink the Water [2009], "Count Gregor" in Fools [2009], "Biff Loman" in Death of a Salesmen [2009] and "Demetrius" in Midsummer Night's Dream [2008]. Recent credits from other theaters include "Billy" in Play On, "Antonio" in the Tempest, "Rooney" in Arsenic and Old Lace, "Northbrook" in Mary Poppins, "Salanio" in Merchant of Venice, "Ephraim Martin" in What Price Freedom, "Delacy" in Frankenstein's Fate, "Kevin" in Superior Donuts and "Bumble" in Peter and the Pirates. Thank you to Beatriz, Lucille, Barbra, Joann, Jessica, Michael and a wonderful cast and production crew. Break a leg everyone!


LINDA CORRELL

(Millie) Ms. Correll is thrilled to once again be performing at Westfield Community Players. Linda has been involved in theater for over 30 years and is delighted to be performing with this talented cast and crew. She has appeared on Westfield's stage in Rumors, Jakes Women, Run For Your Wife, Caught in the Net and as the hilarious nurse, Mrs. Fisher, in WCP's production of "Squabbles". Some other favorite roles include: Carlotta in Phantom, Irene in Crazy for You, Billy Dawn in Born Yesterday, Marta in Thumbs! (the world premier) and Joan Crawford in Legends and Bridge.

Linda has also directed numerous times including such shows as The Lion in Winter, The Last of the Red Hot Lovers, It Runs In the Family, Starting Here, Starting Now and Don't Dress for Dinner for Westfield.

As well as acting, and directing Linda designs, builds sets and dabbles in stage pyrotechnics. Her favorite role is John's "other half"--AML, AML. Love to my family who regularly show me how insanity is supposed to be done. Let the dinner begin!"




KATE MURRAY

(Suzy) Kate Murray is excited to be making her WCP debut. It's been nearly four years since she was last onstage, in Sly Fox at Somerset Valley Players. In the years between, she's directed I Hate Hamlet and co-directed The Frog Prince, both at SVP, and stage managed a number of shows, including most recently In Love and Warcraft at Circle Players, and Lost in Yonkers at SVP, for which she received a NJACT Perry Award nomination.


SCOTT AVERY

(Mr. Morse) Scott is making his WCP debut with this show. He was last seen as Joost van Houten in the Lord Stirling Theater Company's grand opening production of Sleepy Hollow. Some fun previous roles include Theseus in A Midsummer Night's Dream, the villainous Dr. Rex Forbes in Play On!, Reverend Duncan Wooley in Leading Ladies, Gordon Miller in Room Service and Oliver in As You Like it. Scott studied performance improvisation with Rex Knowles and Sherry Landrum at the New Actors Studio in New York.


AL CONTURSI

(Mr. Oxenham/Suzy's john) Al is very happy to return to WCP since making his debut at Westfield Community Players as Barnette Lloyd in Crimes of the Heart. Other favorite local theatre credits include A Few Good Men, The Skin of Our Teeth, Taming of the Shrew, Art, Cat on a Hot Tin Roof, The Miracle Worker, Angel Street, Death of a Salesman, The Lion in Winter, The Grapes of Wrath, One Flew over the Cuckoo's Nest. Al was nominated for a NJACT Perry Award for his role in Art. Thanks to a talented and fun cast. Thanks to my family and friends for their constant love and support. His work in film includes independent features and short films which have screened and won awards at various festivals. Thanks to Bea and a great cast and crew.


PHIL SARPONG

(Cab driver) Phil is an actor and performer who is making his debut with the Westfield Community Players and is delighted be working with such a dynamic cast. One of his notable roles was playing Corey Maxson in Fences. He has acted in multiple counties throughout many locals of New Jersey. As well as stage work, he is a film actor for multiple independent feature films and short films, as well as, a multi-performer in various arts. Phil wants to thank his family for aspiring hope, also all of the cast members, Beatriz, Lucille, and all the production staff for all their hard work, kindness, and energy for the production.


NOAH SOKOLSKY

(Pizza Delivery boy) is thrilled to be making his WCP debut! A freshman at the Academy of Performing Arts, Noah will be appearing in Blind Faith (Danny) and Godspell (Ensemble). Past credits include Little Shop of Horrors (Seymour), You're A Good Man, Charlie Brown (Charlie Brown), Charlie and the Chocolate Factory (Mike Teevee), and We Will Rock You (Pop). He also co-wrote and starred in an original murder mystery, When Pigs Die, which raised $3,200 for charity.


Production Staff
BEATRIZ ESTEBAN-MESSINA

(Director) Beatriz is pleased to return to WCP having made her WCP directorial debut with last season's production of Almost, Maine. She has directed 33 Variations, Anna in the Tropics, The Diary of Adam & Eve, Love Letters, Steel Magnolias, and will direct American Marvel, Into the Woods and Grease in 2015. Beatriz received a Perry nomination for Moon Over Buffalo; she feels blessed with an incredible cast. Thanks to Barbara, Jessica, Joanne, Steve for everything, and Jim for encouraging her stage mania.


LUCILLE BILLS

(Producer) Lucille Bills (Producer) This is the 4th show Lucille has produced at WCP, as well as the Christmas season's children's shows. She was a member of the WCP Board for 8 years. Her past theatre experience includes directing, acting and theatre management as co-founder of Bergen County's first Actors' Equity theater and the Colonnades in New York City. It has been a pleasure to work with Beatriz, Barbara, and this crazy cast of characters. .


BARBARA RUBAN

(Stage Manager) started with WCP as property master for many shows before branching out into stage managing and received a Perry Award nomination for props for the production of Angel Street. She also assists with set decoration and costumes. Having been on stage in a couple of productions, she would rather leave the acting to the pros and enjoy being in the backstage "hustle and bustle". Barbara also wrote two original plays which were performed at WCP. In addition, one play was performed in Chatham in the Jersey Voices Festival. She had been on the Board of WCP for two years serving as Director of Performance. Barbara is now Vice President of Productions. A legal assistant by day, she thanks WCP for allowing her to express her creative side and her children and grandchildren for their love and support, which makes it all more gratifying.


JOANNE LEMENILLE

(Properties) JoAnne appeared as Mrs. Isaac Cohen in last seasons WCP's production of Abie's Irish Rose. She began her WCP experience with her role as Mildred WCP's production of The Cemetery Club. Since that time, JoAnne has been the Properties Mistress for our productions and served on WCP's Board of Directors as Director of Productions. JoAnne recently served as President of WCP for three terms; she is now serving as Director of Performance. JoAnne has been nominated for a NJACT Perry Award for Outstanding Properties in a Play for Rehearsal for Murder

She has always been involved in theatre since she was a child back in Union with the Teen Stagers. She has also appeared as Polly in The Boyfriend, Anna in New Girl in Town; Eleanor in Second Time Around (for Regal Productions), and Peggy in Front Page. Besides doing props, she has worked on Scenery and Set Design. Her favorite role was Eleanor in Second Time Around because it gave her the chance to play her husband, Steve's, snobbish and self-centered wife.

JoAnne is a retired teacher of music from the Clark School system where she was the vocal, instrumental and music theory teacher for over twenty years and for which she directed and musical directed the plays for Kumpf School. "I make bead flowers - an old French art of using glass beads." Special thanks to my husband Steve and JoAnn Scanlon for giving me the chance to rekindle my love for the stage, and thanks to a wonderful cast and fabulous crew." It's good to have you back on front stage!!!




BILL MCMEEKAN

(Set) Bill not only serves as our set designer, but is currently WCP's Treasurer and serves on the Board of Directors. Bill has recently been nominated for a NJACT Perry Award for Outstanding Set Design for a Play for Rehearsal for Murder


JESSICA FOERST

(Lighting Operator/Playbill) Jessica is not only versatile at operating the light control board, but also sits on the WCP Board of Directors as Director of Playbill. She has aided in the lighting design of this show. She is also extremely talented as a graphic designer. Much of her art work is displayed throughout our website. Jessica has been nominated for a NJACT Perry Award for Outstanding Lighting Design of a Play for Rehearsal for Murder.

Jessica most recently produced two productions at the Union County Performing Arts Center (UCPAC) -- To Kill A Mockingbird on the Hamilton Stage and A Seussified Christmas Carol on the Main Stage in Rahway, NJ.




JAMES DUKELOW

(Lighting Designer/Operator) To be developed


GLEN CRANE

(Sound Design) Glen has been nominated for a NJACT Perry Award for Outstanding Sound Design for a Play for Rehearsal for Murder


MIKE BIEBER

(Sound Operator)Michael has played smaller and larger roles at WCP and Westfield's Troupe of Friends free Shakespeare in the Park series. From 1999-2007 he was one of the lead male vocalists in the Daddy-Os and the Grateful Dads in the McKinley Kapers annual variety show. But he most enjoys working tech behind the scenes. Professionally Michael is Associate Chair of the Information Systems Department at NJIT (which also has a Theater Department and regular productions).


BARBARA GOLDSTEIN

(Publicity) To be developed


STEVE LEMENILLE

(Webmaster) Besides directing for WCP, Steve also is the President of WCP and is the webmaster for our web site.


RENATE BIEBER

(Box Office) Renate has been Director of Tickets since the 08-09 season and enjoys making sure the front of the house runs smoothly. Participating in the chorus of Mikado and Pirates of Penzance with the Gilbert & Sullivan Players of Philadelphia many years ago makes her appreciate the hard work that goes into a production and confirmed her belief that she doesn't want to be on stage. Renate is a substitute teacher in the Westfield School District, a board member of Westfield Hadassah, a member of the Harvest Quilters of Central New Jersey and enjoys spending time with her family and reading.


DORIS DIAS

(Costumes) I'm thrilled with the opportunity to work on this production. My personal goal is to make sure that the actors are comfortable and confident in their appearance on stage. I started working on costumes at the Westfield Community Theater in 2009 with their production of Little Mary Sunshine. At this point I fell in love with costuming. I was asked back to the theater and subsequently invited as the Chairperson of Costumes. I have great respect for the Director and his visions; they inspire me. I thank the production team for their faith in my ideas and their respect for my opinion. And especially my daughter for all the late hours, help and support.

Past credits: Little Mary Sunshine, Don't Drink the Water, The Second Time Around, Dial M for Murder, Caught In The Net, Beauty and the Beast, Alice in Wonderland, Abie's Irish Rose, I Love You, You're Perfect, Now Change, Top Girls, Stuart Little, Bizet's Carmen, Squabbles, {proof} and Olympus on My Mind.

"I am a Costumer, I make clothes for imaginary people." ---Celestine Ranney, 1982




KEVIN COULSON

(Stage Crew) One of our youngest "volunteers" here at WCP. Kevin has been with WCP ever since his Senior year at Westfield HS, having started with A Death of a Salesman in which he also appeared in. Kevin also appeared in A View From the Bridge. Kevin is a true asset to our backstage staff and a tremendous support member for our casts.




(Stage crew)




(Stage crew)


GEORGE HILTZ

(Set Construction Chairman) To be developed