Show 1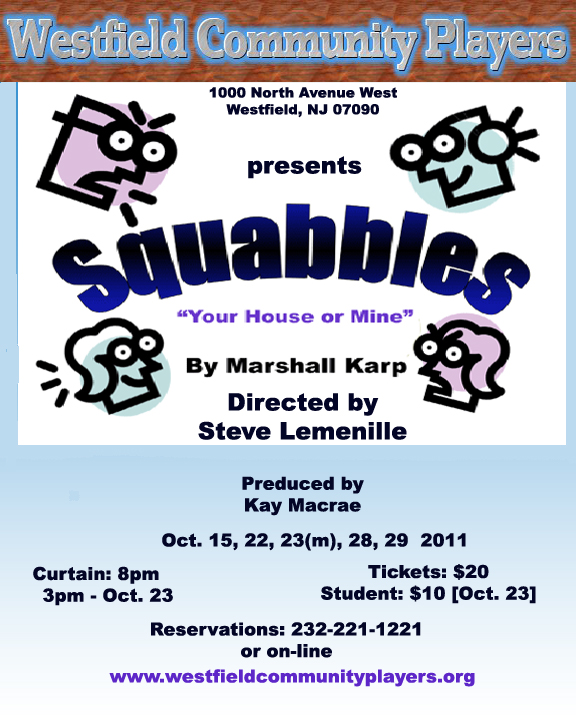 art by: s.lemenille


A hilarous comedy by Marshall Karp
Directed by Steve Lemenille
Produced by Kay Macrae
Squabbles
This hilarious play pits a father in law against a mother in a comedic succession of squabbles. Jerry Sloan is a successful writer of advertising jingles married to an equally successful lawyer. Living with the happy couple is the not so happy Abe Dreyfus, Jerry's curmudgeon of a father in law. Abe is a funny guy to the audience, not to Jerry. The situation is exacerbated when Jerry's mother Mildred looses her house in a fire and needs a place to stay. Abe and Mildred can't stand each other. This play is one hilarious confrontation after another until the heart warming finale in which the oldsters discover that, really, each is not so bad.
Oct. 15, 22, 28, 29, 2011 @ 8pm
Oct. 23, 2011 @ 3pm
Tickets: $20.00; Student Tickets available for Oct. 23: $10.00



Cast and Production Members
| The Cast | The Production/Crew |
| --- | --- |
| Tim McGovern as Jerry Sloan | Steve Lemenille Director |
| Lou Savarese as Abe Dreyfus | Kay Macrae Producer |
| Ken Webb as Hector Lopez | Barbara Ruban Stage Manager |
| Ana Soulios as Alice Sloan | JoAnne Lemenille Properties |
| Debbie Badal as Mildred Sloan | Bill McMeekan Set Design |
| Russ Ortiz as Sol Wasserman | Barbara Ruban/JoAnne Lemenille Set Decor |
| Linda Correll as Mrs. Fisher | Bill McMeekan Lighting Design |
| | Jessica Foerst Lighting Operator |
| | Glen Crane Sound Design |
| | Michael Bieber Sound Operator |
| | TBA Publicity |
| | Jessica Foerst Playbill |
| | Steve Lemenille Web site |
| | Renate Bieber Box Office |
| | Lucille Bills Audience Services |
| | Doris Dias Costumes |
| | Desiree Ewankov Make-Up |
| | TBA House Managers |
| | TBA Ushers |
| | Julia Bieber Stage Crew |
| | Kevin Coulson Stage Crew |
| | George Hiltz Set Construction Chairman |
| | Bob Smith Set Construction |
| | Sal Villani Set Construction |
| | Paul Kirsh Set Construction |

BIOGRAPHIES
The Cast
TIM McGOVERN

(Jerry Sloan) An actor and stage manager at WCP since 1995, Timothy thought he was done for a while, but got pulled back in for this fun role. Most recently (the last WCP show, in fact), he was playing the wonderfully intolerable Derek Coburn in Smoke & Mirrors. Otherwise, Timothy has been a part of nearly every Ray Cooney show produced in Union County. He was John Smith in WCP's production of Caught in the Net, Sgt. Porterhouse in Run for Your Wife, Bill Shorter in There Goes the Bride, and Dr. Bonney in It Runs in the Family. Other favorite shows were Sly Fox, California Suite, Sylvia, and The Musical Comedy Murders of 1940. Timothy is dedicating this performance to his wife Diane (whom he met in this very theatre), and his sons Jack and Brian.


LOU SAVARESE

(Abe Dreyfus) Lou made his WCP debut last season in his first drama portraying Marco in A View from the Bridge. Lou is thrilled to once again to be treading the boards here at the Westfield Community Players. Lou has portrayed FDR in Annie at Hexagon Players of Mendham. Lou has recently appeared in two productions with Jersey Voices this past summer. Lou was also in The Good Doctor (Kistinov), Christmas Belles and Southern Hospitality ( Dep. JC Buntner) at The Dover little Theater. Lou also appeared in the Barn Theater's La Cage aux Folles (Fisherman), Chester Theatre Group's Baker's Wife (M. Martine) and The Clean House (Charles). He also played Ralphie in The Don's Birthday Party for Trilogy. Off stage, Lou produces Medical Education programs on DVD. Lou is honored to work with such a talented director and high energy cast.


KEN WEBB

(Hector Lopez) Ken is excited to be returning to WCP having made his "acting" debut in last season's production of A View from the Bridge portraying Louie. Ken has gotten the "bug" and is delighted to take the challenge with his role as Hector.


ANA SOULIOS

(Alice Sloan) is thrilled be part of this cast and thanks the Lemenilles for the opportunity and great memories. Most recently she was seen in Blue Window and Mama Drama at KPAC. Previously she performed in the NY original plays No Place Like Home at Lamb's Theatre and Aftermath of An Eagle at Fools Company Space. She is most grateful to her husband and children for their support and sacrifices in making this possible.


DEBBIE BADAL

(Mildred Sloan) Debbie is very excited to be performing in her fifth production with WCP. Debbie was last seen as Mary Smith in Caught in the Net. Debbie also portrayed Marion Hollander in WCP's production of Don't Drink the Water. She has also graced out stage as Hippolyta in A Midsummer Nght's Dream. Prior to that, she was Cookie in Rumors, without a doubt, a great experience! Previous favorite roles with the Hexagon Players of Mendham include: M'Lynn in Steel Magnolias, Florence Unger in The Odd Couple (Female Version) and Poopsie in The Pajama Game. Prior to this production, Debbie appeared in Isn't It Romantic as Tasha Blumberg for Stony Hill. In her spare time, Debbie performs in ballroom dance competitions with Fred Astaire Dance Studios. Debbie also performed her dance talent in WCP's 2nd Annual Talent Showcase last spring. A very special thanks to Steve for casting her as Mildred Sloan, what a delight this has been! You are truly the "King"!! It is a pleasure to work with such a fine cast and crew! And as always, thanks to Brad, Kristin and Brittany for their continued support of one of Mom's favorite hobbies!


RUSS ORTIZ

(Sol Wasserman) Russ is pleased to be performing for the first time with the Westfield Community Players. Russ recently appeared in And Then There Were None with the Main Street Theatre Company in Sayreville. Russ' other work include Finian's Rainbow (Henry), the NJDriftwoodPlayers Productions of The Crucible (Giles Corey), Alice in Wonderland (Driftwood-Mock Turtle), One Flew Over Cuckoo's Nest ( Main Street-Aide Williams), Bleacher Bums (Edison Valley Playhouse-Announcer), The Sound Of Music (Main street-Franz), Brigadoon (Playhouse 22-Angus Beaton), and Playhouse 22's production of A Christmas Carol (Fezziwig). Thank you Steve for giving me the opportunity to work with a wonderful cast and crew. It has been a pleasure working with all the talented people associated with the Westfield Community Players. Thanks also to my sons Jason and Scott for their love and support.

Russ most recently was nominated for NJACT 2011 Perry Award for Outstanding Featured Actor in a Play for his role as Thomas Rogers in Main Street Theatre Company's "And Then There Were None."




LINDA CORRELL

(Mrs. Fisher) Linda has been involved in theater for over 30 years and is delighted to be performing with this talented cast and crew. She has appeared on Westfield's stage in Rumors, Jakes Women, Run For Your Wife and Caught in the Net. Some other favorite roles include: Carlotta in Phantom, Irene in Crazy for You, Billy Dawn in Born Yesterday, and Marta in Thumbs! (the world premier). Linda has also directed numerous times including such shows as The Lion in Winter, The Last of the Red Hot Lovers, It Runs In the Family and Starting Here, Starting Now for Westfield. Next season, she will be directing Don't Dress for Dinner for Westfield. As well as acting, and directing Linda designs, builds sets and dabbles in stage pyrotechnics. Her favorite role is John's "other half"--AML, AML. Love to my family who regularly show me how insanity is supposed to be done. Let the Squabbling begin!!


Production Staff
STEVE LEMENILLE

(Director) Steve is thrilled to once again directing for WCP. He directed WCP's production of Dial 'M' for Murder and last season's production of A View from the Bridge, both of which were WCP's most successful and highest grossing productions. He also has appeared in six consecutive productions here at WCP.

Steve has been involved in theatre since his college days at Jersey City State. He is a retired Social Studies teacher and Drama Director of 29 years with the Hackensack Public Schools. Steve was also a MFA candidate at Montclair State.

He has acted with Tower Players and the Opera Workshop of Jersey City, StageCrafters (Fairlawn), and Bergen County Players. He has also acted in dinner theatre for Regal Productions.

Some of the roles he portrayed were: Otto Frank in The Diary of Anne Frank (Tower Players), the Grandfather in The Long Christmas Dinner (Tower Players), Ulysses in Tiger At The Gates (Tower Players), Paul Verrall in Born Yesterday (Bergen County Players), Paul in Barefoot in the Park (Fairlawn), and Michael in Second Time Around and the Inspector in A Shot In The Dark (Regal Productions) and the Grandfather in Kurt Wiell's Down in the Valley (Opera Workshop). Steve portrayed Theseus in A Midsummer Night's Dream, Stanley in Death of a Salesman, The Magistrate in Fools, and Gen. Oscar Fairfax in Little Mary Sunshine and Kilroy in Don't Drink the Water...all for WCP. Steve was nominated for a 2009 NJACT Perry Award for OUTSTANDING ENSEMBLE MEMBER for his role as the Magistrate in Fools.

His directorial credits include: You Can't Take It with You, Harvey, The Man Who Came to Dinner, Gramercy Ghost, George Washington Slept Here, L'il Abner, The King & I, Oklahoma, Sound of Music, The Diary of Anne Frank, Our Town, South Pacific, The Music Man, Rehearsal for Death (all for HMS), Dial 'M' for Murder (Stagecrafters/WCP).

Steve was most recently nominated for two (2) NJACT 2011 Perry Awards: Oustanding Supporting Actor in a Play for his role as Justice Lawrence Wargrave in Main Street Theatre's production of And Then There Were None, and Outstanding Featured Actor in a Play for his role as Isaac Cohen in Westfield Community Players production of Abie's Irish Rose.

Steve is currently the webmaster here at WCP. Steve wishes to thank his wife, JoAnne, for getting him back involved with theatre. "Without her support and love, I can accomplish little. Thank you dear!!" Steve also thanks Naomi Yablonsky, Sherrie Ahlin, Maurice Moran and Drude Roessler for making his WCP experiences very special. A special note of thanks to Jessica, Mike, JoAnne and Barbara for their contributions in making this another excellent production. And of course special thanks to this Cast/Crew for their hard work and love of theatre.




KAY MACRAE

(Producer) Kay received her 2nd Perry Award Nomination for Outstanding Production of a Play for the Westfield Community Players production of Angel Street. She has been a member of WCP for many, many years---singing, acting and enjoying it all!! Kay has produced such notable productions here at WCP of Little Mary Sunshine, Born Yesterday and Second Time Around...to mention just a few. Kay also serves on the Play Reading Committee. Kay sings with Celebration Singers in Cranford. There are also seven handsome grandsons in her life!


BARBARA RUBAN

(Stage Manager/Set Decor) started with WCP as property master for many shows before branching out into stage managing and received a Perry Award nomination for props for the production of Angel Street. She also assists with set decoration and costumes. Having been on stage in a couple of productions, she would rather leave the acting to the pros and enjoy being in the backstage "hustle and bustle". Barbara also wrote two original plays which were performed at WCP. In addition, one play was performed in Chatham in the Jersey Voices Festival. She had been on the Board of WCP for two years serving as Director of Performance. Barbara is now Vice President of Productions. A legal assistant by day, she thanks WCP for allowing her to express her creative side and her children and grandchildren for their love and support, which makes it all more gratifying.


JOANNE LEMENILLE

(Properties Mistress) JoAnne appeared as Mrs. Isaac Cohen in last seasons WCP's production of Abie's Irish Rose. She began her WCP experience with her role as Mildred WCP's production of The Cemetery Club. Since that time, JoAnne has been the Properties Mistress for our productions and served on WCP's Board of Directors as Director of Productions. JoAnne is now in her second term as President of WCP.

She has always been involved in theatre since she was a child back in Union with the Teen Stagers. She has also appeared as Polly in The Boyfriend, Anna in New Girl in Town; Eleanor in Second Time Around (for Regal Productions), and Peggy in Front Page. Besides doing props, she has worked on Scenery and Set Design. Her favorite role was Eleanor in Second Time Around because it gave her the chance to play her husband, Steve's, snobbish and self-centered wife.

JoAnne is a retired teacher of music from the Clark School system where she was the vocal, instrumental and music theory teacher for over twenty years and for which she directed and musical directed the plays for Kumpf School. "I make bead flowers - an old French art of using glass beads." Special thanks to my husband Steve and JoAnn Scanlon for giving me the chance to rekindle my love for the stage, and thanks to a wonderful cast and fabulous crew." It's good to have you back on front stage!!!




BILL MCMEEKAN

(Set/Lighting Designer) Bill not only serves as our set designer, but is currently WCP's Treasurer and serves on the Board of Directors.


JESSICA FOERST

(Lighting Operator/Playbill) Jessica is not only versatile at operating the light control board, but also sits on the WCP Board of Directors as Director of Playbill. She has aided in the lighting design of this show. She is also extremely talented as a graphic designer. Much of her art work is displayed throughout our website.


GLEN CRANE

(Sound Design) To be developed


MIKE BIEBER

(Sound Operator) To be developed


TBA

(Publicity) To be developed


STEVE LEMENILLE

(Web Master) See bio above


RENATE BIEBER

(Box Office) Renate has been Director of Tickets since the 08-09 season and enjoys making sure the front of the house runs smoothly. Participating in the chorus of Mikado and Pirates of Penzance with the Gilbert & Sullivan Players of Philadelphia many years ago makes her appreciate the hard work that goes into a production and confirmed her belief that she doesn't want to be on stage. Renate is a substitute teacher in the Westfield School District, a board member of Westfield Hadassah, a member of the Harvest Quilters of Central New Jersey and enjoys spending time with her family and reading.


DORIS DIAS

(Costumes) Iím thrilled with the opportunity to work on this production. My personal goal is to make sure that the actors are comfortable and confident in their appearance on stage. I started working on costumes at the Westfield Community Theater in 2009 with their production of Little Mary Sunshine. At this point I fell in love with costuming. I was asked back to the theater and subsequently invited as the Chairperson of Costumes. I have great respect for the Director and his visions, they inspire me. I thank the production team for their faith in my ideas and their respect for my opinion. And specially my daughter for all the late hours, help and support.

Past credits: Little Mary Sunshine, Donít Drink the Water, The Second Time Around, Dial M for Murder, Caught In The Net, Beauty and the Beast, Alice in Wonderland, Abieís Irish Rose, I Love You, Youíre Perfect, Now Change, Top Girls, Stuart Little and Bizetís Carmen

"I am a Costumer, I make clothes for imaginary people." ---Celestine Ranney, 1982




BRENDA LURIA

(Make-Up) This is Brenda's first production with WCP. She joins us a make-up artist for this show. We hope Brenda enjoys the fun and we look forward in having her a part of our "theatrical family."


JULIA BIEBER

(Stage crew) Julia is one of WCP's teen members. She has worked on shows from A Midsummer Night's Dream up to our current show. She is a real trooper. She even commanded running the props for Caught in the Net. Good job, Julia!! She also makes her traditional cookie for the cast party...Maybe a 'bridge cookie'?


TBA

(Stage crew)


GEORGE HILTZ

(Set Construction Chairman) To be developed