Show 4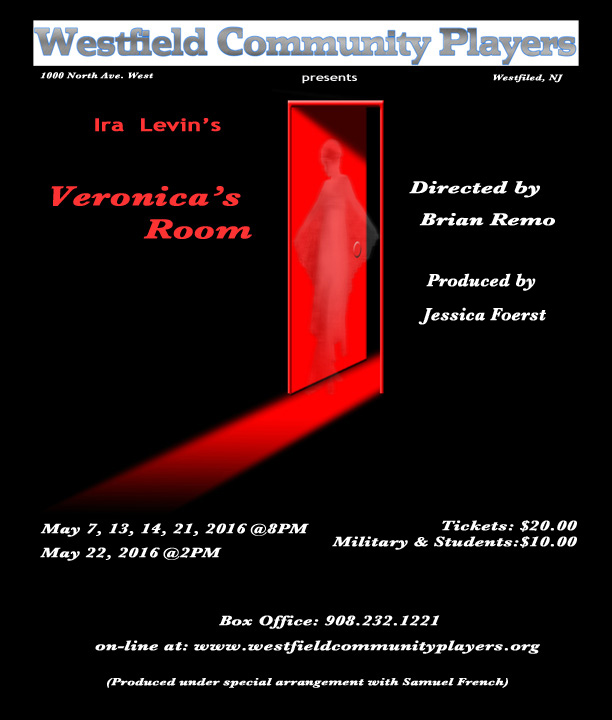 poster adapted by: slemenille


A mystery
Directed by Brian Remo
Produced by Jessica Foerst
Tribute

This chilling mystery thriller by the author of Rosemary's Baby explores the thin line between fantasy and reality, madness and murder. Students Susan and Larry find themselves as guests enticed to the Brabissant mansion by its dissolute caretakers the lonely Mackeys.Struck by Susan's strong resemblance to Veronica Brabissant, long- dead daughter of the family for whom they work, the older couple gradually induce her to impersonate Veronica briefly to solace the only living Brabissant, her addled sister who believes Veronica alive. Once dressed in Veronica's clothes, Susan finds herself locked in the role and locked in Veronica's room. Or is she Veronica, in 1935, pretending to be an imaginary Susan?
May 7, 13, 14, 21, 2016 @8PM
May 22, 2016 @2PM
Tickets: $20.00; Active Military Personnel & Students: $10.00



Cast and Production Members
| The Cast | The Production/Crew |
| --- | --- |
| Janice Lynn as The Woman | Brian Remo Director |
| Victor Gallo as The Man | Jessica Foerst Producer |
| Kelly Kline as The Girl | Jessica Foerst Stage Manager |
| Ross Pohling as The Young Man | JoAnne Lemenille Properties |
| | Bill McMeekan Set Design |
| | JoAnne Lemenille Set Decor |
| | James Dukelow Lighting Design |
| > | Michael Bieber Lighting Operator |
| | Glen Crane Sound Design |
| | Michael Bieber Sound Operator |
| | Barbara Goldstein Publicity |
| | Jessica Foerst Playbill |
| | Steve Lemenille Webmaster |
| | Renate Bieber Box Office |
| | Doris Dias Costumes |
| | Kevin Coulson Stage Crew |
| | Jean Lioy Stage Crew |
| | Steve Lemenille Photographer |
| | George Hiltz Set Construction Chairman |
| | Bob Smith Set Construction |
| | Sal Villani Set Construction |
| | Paul Kirsh Set Construction |
| | Roberta Fisher House Manager |
| | Marilyn Gettinger House Manager |
| | Kay Macrae House Manager |
| | Renate Bieber House Manager |

BIOGRAPHIES
The Cast
JANICE LYNN

(The Woman) Janice Lynn is a familiar to NJ/NY theatre and TV circuits, with over three dozen lead credits, including appearances at the Papermill, Six Flags Great Adventure, Off-Broadway and Broadway, as well as the National Touring Co of Pippin as Fastrada. Some of her TV/film/music credits include Person of Interest, Carlito's Way, Other People's Money, A Fire in the Dark, and a vocal release of her Broadway/Jazz album, "Crazy in Love." Janice is a Doctor of Education, a director/choreographer of some 60 musicals, a published author, and a grandmother of eight.


VICTOR GALLO

(The Man) Victor Gallo has performed with a number of New Jersey theatre companies, including Nutley, Hudson Theatre Works, Chatham, The Barn, Dover, 4th Wall Theatre, and the Strollers. Some favorite shows include The Other Place (Ian), Next Fall (Butch), Lost in Yonkers (Uncle Louie), Born Yesterday (Ed Devery), Children of a Lesser God (Mr. Franklin), Glengarry Glen Ross (Dave Moss), Of Mice and Men (Whit), Side Man (Gene), and Cat On A Hot Tin Roof (Gooper). Victor is a retired actuary, Chartered Financial Analyst, high school math teacher, and custom golf club maker.


KELLY KLINE

(The Girl) Kelly Kline (Girl) is over the moon to be performing in her first production with WCP. Some favorite past credits include Cabaret (Sally Bowles), Beauty and the Beast (Belle), Seussical (Mayzie), and Damn Yankees (Lola). She would like to thank her family and friends for their constant support and for pushing her to pursue her dreams. Do what you love and trust your journey!


ROSS POHLING

(The Young Man) Ross Pohling is a Westfield native returning to WCP after performing most recently in Vanya and Sonia and Masha and Spike as Spike. He also appeared in WCP's production of Butterflies are Free. Other New Jersey community theater credits include A Few Good Men, A Streetcar Named Desire, and most recently Who's Afraid of Virginia Woolf. Ross started theater in high school with New Jersey Youth Theatre (NJYT) and in college performed with the Hinman Production Company (HPC). He is currently a 9th grade physics teacher.


Production Staff
BRIAN REMO

(Director) Brian began his WCP experience with his role as Max Haliday in WCP's production of Dial 'M' for Murder back in 2010. Since that time, he has appeared in WCP production of A View from the Bridge as Rodolpho, The Glass Menagerie as Tom, Abie's Irish Rose as Abie and Don't Dress for Dinner as George. Brian has also successfully directed several productions here at WCP, including Rehearsal for Murder, which was nominated for 10 Perry Awards (including Best Direction) and last season's, A Streetcar Named Desire Mr. Remo's theatrical experience has led him to establishing Fearless Productions in Rahway, NJ working out of the UCPAC center and producing such productions as Sex, Relationships and Sometimes…Love which also played at the Producer's Club and The Jerry Orback Theater in NYC, To Kill A Mockingbird, Bachelorette, The Scene, Legends and Bridge, Seussified, and most recently, I Love You, You're Perfect, Now Change. Mr. Remo has also directed for Mainstreet Theater, The Old Library, and Edison Valley, to name a few.

Brian is currently serving as the Executive Director of Union County Performing Arts Center (UCPAC) in Rahway, NJ where he lives with his partner, Kristin and his four children: Justin, Jack, Amelia and Kali. Brian is a proud member and founder of Fearless Productions. He wishes to thank the cast and crew and the BOD of WCP, Jessica for being beyond a friend and confidante, his stage parents: Coach and Jo, and dedicates this and every production to Kristin, who is the life in his love as well as the love of his life. Enjoy the show.




JESSICA FOERST

(Producer/Stage Manager) Jessica Foerst currently serves on the Board of Directors at WCP as Marketing/Playbill Director. This is Jessica's first WCP production that she has produced, but she has produced a number of productions for Fearless Productions.

Jessica is not only versatile at operating the light control board, but she is also extremely talented as a graphic designer. Much of her art work is displayed throughout our website. Jessica has been nominated for a NJACT Perry Award for Outstanding Lighting Design of a Play for Rehearsal for Murder.

Jessica most recently produced two productions at the Union County Performing Arts Center (UCPAC) -- To Kill A Mockingbird at the Hamilton Stage and A Seussified Christmas Carol on the Main Stage in Rahway, NJ




JOANNE LEMENILLE

(Properties) JoAnne appeared as Mrs. Isaac Cohen in last seasons WCP's production of Abie's Irish Rose. She began her WCP experience with her role as Mildred WCP's production of The Cemetery Club. Since that time, JoAnne has been the Properties Mistress for our productions and served on WCP's Board of Directors as Director of Productions. JoAnne recently served as President of WCP for three terms; she is now serving as Director of Performance. JoAnne has been nominated for a NJACT Perry Award for Outstanding Properties in a Play for Rehearsal for Murder

She has always been involved in theatre since she was a child back in Union with the Teen Stagers. She has also appeared as Polly in The Boyfriend, Anna in New Girl in Town; Eleanor in Second Time Around (for Regal Productions), and Peggy in Front Page. Besides doing props, she has worked on Scenery and Set Design. Her favorite role was Eleanor in Second Time Around because it gave her the chance to play her husband, Steve's, snobbish and self-centered wife.

JoAnne is a retired teacher of music from the Clark School system where she was the vocal, instrumental and music theory teacher for over twenty years and for which she directed and musical directed the plays for Kumpf School. "I make bead flowers - an old French art of using glass beads." Special thanks to my husband Steve and JoAnn Scanlon for giving me the chance to rekindle my love for the stage, and thanks to a wonderful cast and fabulous crew." It's good to have you back on front stage!!!




BILL MCMEEKAN

(Set Designer) Bill not only serves as our set designer, but is currently WCP's Treasurer and serves on the Board of Directors. Bill has recently been nominated for a NJACT Perry Award for Outstanding Set Design for a Play for Rehearsal for Murder


GLEN CRANE

(Sound Design) Glen has been nominated for a NJACT Perry Award for Outstanding Sound Design for a Play for Rehearsal for Murder


MIKE BIEBER

(Sound Operator) Michael has played smaller and larger roles at WCP and Westfield's Troupe of Friends free Shakespeare in the Park series. From 1999-2007 he was one of the lead male vocalists in the Daddy-Os and the Grateful Dads in the McKinley Kapers annual variety show. But he most enjoys working tech behind the scenes. Professionally Michael is Associate Chair of the Information Systems Department at NJIT (which also has a Theater Department and regular productions).


BARBARA GOLDSTEIN

(Publicity) To be developed


STEVE LEMENILLE

(Webmaster) Besides directing for WCP, Steve also is the President of WCP and is the webmaster for our web site.


RENATE BIEBER

(Box Office) Renate has been Director of Tickets since the 08-09 season and enjoys making sure the front of the house runs smoothly. Participating in the chorus of Mikado and Pirates of Penzance with the Gilbert & Sullivan Players of Philadelphia many years ago makes her appreciate the hard work that goes into a production and confirmed her belief that she doesn't want to be on stage. Renate is a substitute teacher in the Westfield School District, a board member of Westfield Hadassah, a member of the Harvest Quilters of Central New Jersey and enjoys spending time with her family and reading.


DORIS DIAS

(Costumes) I'm thrilled with the opportunity to work on this production. My personal goal is to make sure that the actors are comfortable and confident in their appearance on stage. I started working on costumes at the Westfield Community Theater in 2009 with their production of Little Mary Sunshine. At this point I fell in love with costuming. I was asked back to the theater and subsequently invited as the Chairperson of Costumes. I have great respect for the Director and his visions; they inspire me. I thank the production team for their faith in my ideas and their respect for my opinion. And especially my daughter for all the late hours, help and support.

Past credits: Little Mary Sunshine, Don't Drink the Water, The Second Time Around, Dial M for Murder, Caught In The Net, Beauty and the Beast, Alice in Wonderland, Abie's Irish Rose, I Love You, You're Perfect, Now Change, Top Girls, Stuart Little, Bizet's Carmen, Squabbles, {proof}, Olympus on My Mind, A Thousand Clowns, Hot L Baltimore, Almost, Maine, Vanya and Sonia and Masha and Spike and Tribute.

"I am a Costumer, I make clothes for imaginary people." ---Celestine Ranney, 1982




KEVIN COULSON

(Stage Crew) Kevin has been a part of WCP's theatrical family since he was in high school. He has been a tremendous asset to every production he has been a part of. Not only has he handled the backstage responsibilities but has event performed on stage in Death of a Salesman and A View from the Bridge.




(Stage crew)




(Stage crew)


GEORGE HILTZ

(Set Construction Chairman) To be developed