"A Midsummer Night's Dream"
by William Shakespeare
Directed by: Naomi Yablonsky
October 4, 10, 11, 17, 18, 24 and 25, 2008
Click here for show details

"Death of a Salesman"
by Arthur Miller
Directed by: Sherrie Ahlin
January 10, 17, 18, 23 and 24, 2009
January 16, 2009: Benefit Performance
Student rate ($7.00) offered for:
January 18, 2009.
to Students with valid school ID
Click here for show details


"Fools"
by Neil Simon
Directed by: Maurice Moran
March 7,14,20,21, 2009
March 13, 2009: Benefit Performance
March 15, 2009: Sunday Matinee 3PM

Click here for show details


"Little Mary Sunshine"
book music & lyrics by Rick Besoyan
While this "musical about an old operetta" is a spoof of old time favorites like "Rose Marie" and "Naughty Marietta", it kids gently and with affection. With its deliberately corny songs and naive situations, it pokes fun at all the clichés of Hollywood's innocent musicals of the 30's and 40's. There are 24 songs in all, including thundering choruses, romantic waltzes and lilting duets, all done freshly and with flair. The story centers on the dashing and gallant Captain of the Colorado Rangers as he tries to win the heart of Mary Sunshine while stopping a dastardly villain and his murderous plot. In the end the lovers are united, the villain is defeated and a chorus of winsome schoolgirls help complete this loving lampoon of old-fashioned movie musicals.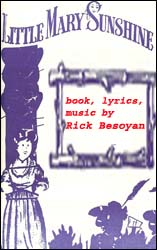 Directed by: Drude Roessler
Musical Director: Larry Rothweiler
Choreographed by: Maury Herman
May 2, 8, 9, 16, 29 and 30, 2009
May 8, 2009 Students $10.00 with current school ID
May 15, 2009: Benefit Performances
Click here for show details


"2nd Annual Talent Showcase
Westfield Community Players is proud to present its 2nd Annual Talent Showcase featuring local talent. Please join us for an evening of entertainment.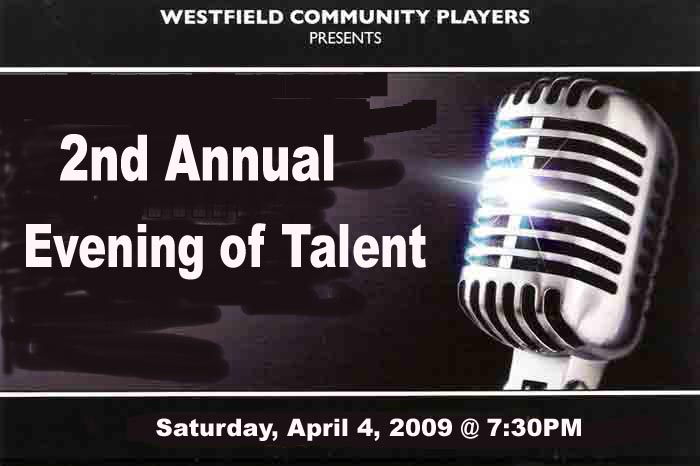 Produced by: Barbara Ruban, JoAnne Lemenille, Jessica Foerst
April 4, 2009
Donation $15.00
Door Prizes
For Tickets, call: (908)232-1221
Click here for show details