Show 3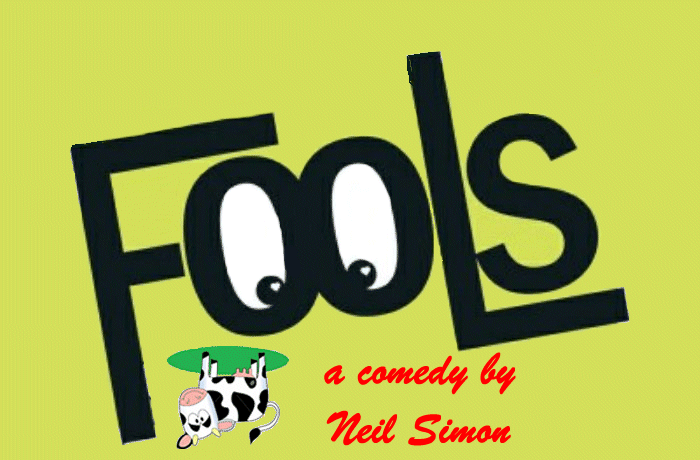 art by: S. Lemenille


A comedy by Neil Simon
Fools a lighthearted comedy set in a small Ukrainian village in the 1800's which has been living under a curse of chronic stupidity for 200 years. Into this odd setting, Leon Tolchinsky arrives as the new teacher for this idyllic Russian hamlet. We see people sweeping dust from the stoops back into their houses and people milking upside down to get more cream. While past of Leon's job is to break the curse, no one tells him that if he stays over 24 hours and fails to break the curse, he becomes stupid too. Why doesn't Leon just leave? He has fallen in love with a girl so stupid that she has only recently learned how to sit down. Of course, with Neil Simon adding the witty dialog and comic misadventures, Leon breaks the curse and gets the girl.
March 7, 14, 15, 20 and 21, 2009


March 13, 2009 Benefit Performance


March 15, 2009 Matinee Performance @ 3PM


Student rate tickets available for Matinee Performance







Cast and Production Members
The Cast
(In order of appearance)
The Production/Crew
David Gazzo as Leon Tolchinsky
Maurice Moran Director
Michael Burdick as Snetsky
Sally Brown Producer
Steve Lemenille as Magistrate
Barbara Ruban Stage Manager
Gregg Mele as Slovitch
Kristen Paparella Properties Mistress
Art Seif as Mishkin
Bill McMeekan Set Design/Construction
Danielle Levitt as Yenchna
Bob Murray Lighting Design
Dickson Lane as Dr. Zubritsky
Jessica Foerst Lighting Operator
JoAnne Lemenille as Lenya Zubritsky
Glen Crane Sound Design
Vikki Massulli as Sophia Zubritsky
Mike Bieber Sound Operator
Peter Curley as Gregor Yousekevitch
Jessica Foerst Playbill
Steve Lemenille Website
Victor Cenci Publicity
Anna MacNiven Costumes
Desiree Ewankov Make-Up
George Hiltz Set Construction Chairman
Bob Smith Set Construction
Sal Villani Set Construction
Julia Bieber Props
Kevn Coulson Props
MaryJane Ajodah Props

BIOGRAPHIES
The Cast
(In order of appearance)
DAVID GAZZO

(Leon Tolchinsky) David is a recent graduate from Rutgers University and is thrilled to be in his first production with WCP. His favorite role will always be Uncle Chris in I Remember Mama when he was 17. Other credits include Pete in Ashtrays for Vodka at the Riant Theatre in NYC and Sandy in The Philadelphia Story. He is currently pursuing an acting career in New York. He would like to thank the wonderful cast and crew, as well as his parents and sisters Jen, Karen, Cynthia and Sarah, and his brother Chris, Mike, and Steve. As well as O.E.


MICAHEL BURDICK

(Snetsky) Michael is thrilled to be appearing in his first show with the Westfield Community Players. An award winning playwright and director, Mike is closing his eyes and jumping back into acting in a quest to find roles he enjoys as much as past favorites Eugene in Brighton Beach Memories, Pip/Theo in Three Days of Rain, Eddie in High Crimes and Subtle Deceptions and Gravedigger 2 in Gravediggers / Somethiní Rotten. Thanks to this hilarious cast and crew and to Carrie and Izzy for doing without me a few times a week.


STEVE LEMENILLE

(Magistrate) Steve was most recently seen here at WCP as Stanley in Death of a Salesman and as Theseus in "A Midsummer Night's Dream" which marked his debut with WCP. Steve has been involved in theatre since his college days at Jersey City State. He is a retired Social Studies teacher and Drama Director of 29 years with the Hackensack Public Schools. He has acted with Tower Players and the Opera Workshop of Jersey City, Fairlawn Players, and Bergen County Players. He has also acted in dinner theatre for Regal Productions. Some of the roles he portrayed were: Otto Frank in The Diary of Anne Frank (Tower Players), the Grandfather in The Long Christmas Dinner (Tower Players), Ulysses in Tiger At The Gates (Tower Players), Paul Verrall in Born Yesterday (Bergen County Players), Paul in Barefoot in the Park (Fairlawn), and Michael in Second Time Around and the Inspector in A Shot In The Dark (Regal Productions) and the Grandfather in Kurt Wiel's Down in the Valley. His directorial credits include: Dial M for Murder (Fairlawn), You Can't Take It with You, Harvey, The Man Who Came to Dinner, Gramercy Ghost, George Washington Slept Here, L'il Abner, The King & I, Oklahoma, Sound of Music, The Diary of Anne Frank, Our Town, South Pacific, The Music Man, Rehearsal for Death (all for HMS). Steve is currently the webmaster here at WCP. Steve wishes to thank his wife, JoAnne, for getting him back involved with theatre. "Without her support and love, I can accomplish little. Thank you dear!!"


GREGG MELE

(Slovitch) Gregg Mele is very excited about performing for the Westfield Community Players for the first time. Gregg has been in many theatrical performances throughout his school years and beyond, most recently finishing a production run of Baby at the Summit Playhouse and Amahl and the Night Visitors for the Stony Hill Players. He attended Montclair State University as an undergraduate student, and went on to complete graduate degree programs at Stevens Institute, Baruch College, New York Law School, and NYU School of Law, and now runs a solo law practice and teaches at Stevens and Fairleigh Dickinson University, but his passion for theater has never faded. He also got married along the way and helped raise two wonderful daughters, Robin and Nancy, to whom his performances are dedicated. He thanks the Players for this opportunity.


ART SEIF

(Mishkin) Art is happy to return to the 'Post Office' as it helped him get through college. Of course, then he worked doggedly, never looked up at the sky, and never, ever, did he deliver mail to the wrong address. He is very pleased to be performing for the first time with WCP. For some reason, having nothing to do with his real personality, he usually acts as a weird character - but they do have great lines. Although he only started acting when he retired, he has made up for lost time with a number of companies - Chatham, as Scanlon in Cuckoo's Nest, Summit as DePinna in You Can't Take It With You, Strollers (Maplewood) as Mr. Klemper in The Boys Next Door, Circle (Piscataway) as The Boss in Of Mice and Men, Philathalians (Fanwood) as Officer Hennessey in Nuts. among others. He thanks Maurice, the zany but warm-hearted cast members, the very important -can't do without- backstage people and you, the audience, for the joy of the occasion.


DANIELLE LEVITT

(Yenchna) Danielle was last seen in WCP's productions of Death of a Salesman and A Midsummer Night's Dream. Other not so recent productions include A Midsummer Night's Dream at The Leonia Players Guild, Tom Stoppard's Arcadia at the Greenbelt Community Theatre and Eve in Adam and Eve and Barbarino for the Rutgers Cabaret Theatreís Directors Showcase. She would like to thank Maurice for this fabulous opportunity, and Steve, Eileen, and Mom for making it all possible. I love you girls!


DICKSON LANE

(Dr. Zubritsky) Dickson is returning to the stage after a long absence. This is his first appearance with the Westfield Community Players. N.C. School of the Performing Arts - Winston-Salem, NC Webber Douglas Academy of Dramatic Art - London, England


JOANNE LEMENILLE

(Lenya Zubritsky)JoAnne is glad to be back treading the boards here at WCP. She began her WCP experience with her role as Mildred WCP's production of The Cemetery Club. Since that time, JoAnne has been the Properties Mistress for our productions and sits on WCP's Board of Directors as Director of Productions. She has alway been involved in theatre since she was a child back in Union with the Teen Stagers. She has also appeared as Polly in The Boyfriend, Anna in New Girl in Town; Eleanor in Second Time Around (for Regal Productions), and Peggy in Front Page. Besides doing props, she has worked on Scenery and Set Design. Her favorite role was Eleanor in Second Time Around because it gave her the chance to play her husband, Steve's, snobbish and self-centered wife. JoAnne is a retired teacher of music from the Clark School system where she was the vocal, instrumental and music theory teacher for over twenty years for which she directed and musical directed the plays for Kumpf School. "I make bead flowers - an old French art of using glass beads." Special thanks to my husband Steve and JoAnn Scanlon for giving me the chance to rekindle my love for the stage, and thanks to a wonderful cast and fabulous crew." It's good to have you back on front stage!!!


VIKKI MASSULLI

(Sophia Zubritsky) Vikki was last seen as Cassie in WCPís production of Rumors where she earned a Perry Nomination. At WCP she has also played Judy (The Bride) in There Goes The Bride and Quincy in An American Daughter. She has performed on stage both locally and in NYC in productions such as Alliance Repís Boysí Life (Lisa), the 2008 NYC Fringe Festivalís A Sagacious Hunch (Darlene), multiple roles in A Midsummer Nightís Dream, in CDCís You Canít Take It With You (Essie), Carnival Girls (Evie), Fertility Factor (Anne), The Office Plays (Sarah), Not About Nightingales (Eva), and The Root of Chaos (Wilma). Vikkiís TV credits include SNL, One Life to Live & Guiding Light. Film credits: Sunflowers, Story 353 and Under the Sky. Vikki is a proud member of Alliance Repertory Theatre, 12 Miles West Theatre Company, GIAA ĖThe Guild of Italian American Actors and AFTRA.


PETER CURLEY

(Gregor Yousekevitch) Peter was last seen in WCP's production of Death of a Salesman as Biff and in "A Midsummer Night's Dream" as Demetrius, also here at WCP. His favorite roles from other CT productions include Nick in Who's Afraid of Virginia Woolf, Sam Weinberg in A Few Good Men, Jasiau Sadlowski in Polish Joke, Richard Rich in A Man For All Seasons, and Jonathan Brewster in Arsenic and Old Lace, Andrew Aguucheek in Twelveth Night, James Keller in Miracle Worker, and Felix Hackaday in Best of Friends. Other Shakespeare credits include - Taming of the Shrew, Romeo and Juliet, Henry IV, Part I, As You Like It, All's Well That Ends Well, and Measure to Measure.


Production Staff
MAURICE J. MORAN

(Director) has been directing or producing secondary, community, and professional productions in north Jersey for 35 years, including Dancing at Lughnasa, Shot in the Dark, Driving Miss Daisy, and Deathtrap, among others, for Community Players, with whom he was a former board member. He has an MA in Performance Studies from NYU's Tisch School of the Arts and recently retired after 37 years of teaching English, Theatre and Media Studies at Roselle Catholic and Verona High School. He previously directed with the professional summer stock company, Summerfun, in Montclair, where he premiered 12 shows in NJ including The Sisters Rosensweig, Neil Simon's Proposals, and Death and the Maiden. He enjoys traveling with his wife Patty and has explored Ireland, Scotland, and England and has visited 49 of the 50 states and 10 of Canada's 13 provinces and territories.


SALLY BROWN

(Producer) Sally once served as secretary on the Westfield Community Players Board of Directors for a number years. This marks her second time as producer, previously produced WCP's production of The Uninvited. Sally finds the experience exhilarating and loves the entire cast and production team. Outside of W.C.P., Sally engages in volunteer activities with a number of local organizations. She enjoys opera, music, history and reading. Sally would like to thank everyone for their encouragement and support


BARBARA RUBAN

(Stage Manager/Set Decor) started with WCP as property master for many shows before branching out into stage managing and received a Perry Award nomination for props for the production of Angel Street. She also assists with set decoration and costumes. Having been on stage in a couple of productions, she would rather leave the acting to the pros and enjoy being in the backstage "hustle and bustle". Barbara also wrote two original plays which were performed at WCP. In addition, one play was performed in Chatham in the Jersey Voices Festival. She has been on the Board of WCP for two years serving as Director of Performance. A legal assistant by day, she thanks WCP for allowing her to express her creative side and her children and grandchildren for their love and support, which makes it all more gratifying.


KRISTEN PAPARELLA

(Properties Mistress)To be developed


BOB MURRAY

(Lighting Designer) is designing lights for all of our productions this season. He is a veteran lighting designer, technical director, and stage technician (I.A.T.S.E.) His professional credits include The Newark Symphony Hall Summer Festival, George Street Theater, Crossroads Theater, and Paper Mill Playhouse. He has also been affiliated with the Bickford Theater and other N.J. Theaters. Most recently, Bob has worked on The Heiress for Stony Hill Players and Over the River Through the Woods with Act IV Productions.


JESSICA FOERST

(Lighting Operator/Playbill) Jessica is not only versatile at operating the light control board, but also sits on the WCP Board of Directors as Director of Playbill. She is also extremely talented as a graphic designer. Much of her art work is displayed throughout our website.


GLEN CRANE

(Sound)


MIKE BIEBER

(Sound)


STEVE LEMENILLE

(Webmaster) In addition to performing on stage for WCP, Steve has the pleasurable role and responsibility of maintaining, designing and updating WCP's website. He hopes this added addition helps in keeping our subscribers well-informed of our theatre.


VICTOR CENCI

(Publicity)


ANNA MCNIVEN

(Costumes) To be developed


TO BE ANNOUNCED

(Make-Up)


JULIA BIEBER

(Stage Crew) To be developed


KEVIN COULSON

(Stage Crew)


MARYJANE AJODAH

(Stage Crew)


BILL MCMEEKAN

(Set Design) Bill's first work in stage production was at camp in 1944, then at Pingry and later at college. In 1959, he became a member of The Community Players, and the following year became Lighting Chairman. In this position, he designed and supervised the lighting for over 75 of our productions. Currently he works on construction and is our Technical Designer...work he has done for over 50 productions. He has served on the Board of Directors over 35 years in various positions, and has been Tresurer since 1983. In addition, Bill was the primary designer of the plans that converted our "Clubhouse" into a theatre in 1977 and for the most of the changes and improvement since that time.


GEORGE HILTZ

(Set Construction Chairman)


Back to "Fools" Page




All Dates subject to change
Photos by: Tchr & J. Foerst

All photos are the property of WCP. Distribution, reproduction, coping or use of any photo by any means including electronic, print or digital representation is strictly prohibited without the expressed permission of WCP and its assignees.


Funding has been made possible in part by the New Jersey State Council on the Arts, Department of State, a partner agency of the National Endowment for the Arts, through a grant administered by the Union County Office of Cultural and Heritage Affairs

---