Show 4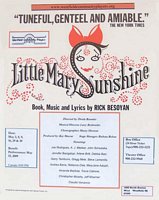 Click for larger view

revised by: S. Lemenille


A musical comedy---Book, music and lyrics by Rick Besoyan
While this "musical about an old operetta" is a spoof of old time favorites like Rose Marie and Naughty Marietta, it kids gently and with affection. With its deliberately corny songs and naive situations,, it pokes fun at all the cliches of Hollywood's innocent musicals of the 30's and 40's. There are 24 songs in all, including thundering choruses, romantic watlzes and lilting duets, all done freshly and with flair. The story centers on the dashing and gallant Captain of the Colorado Rangers as he tries to win the heart of Mary Sunshine while stopping a dastardly villain and his murderous plot. In the end the lovers are united, the villain is defeated and a chorus of winsome schoolgirls helps complete this loving lampoon of old-fashioned movie musicals.
May 2, 8, 9, 15, 16, 29 and 30, 2009


Benefit Performances: May 15


All Single Tickets: $20









Cast and Production Members
The Cast
(In order of appearance)
The Production/Crew
Joe Rodriguez as Chief Brown Bear
Drude Roessler Director
A. J. Meeker as Corporal "Billy" Jester
Kay Macrae Producer
John Schweska as Captain "Big Jim" Warington
Larry Rothweiler Musical Director
Jennifer Bacigalupi as Little Mary Sunshine
Maury Herman Choreographer
Arlene Britt as Madame Ernestine von Liebedich
Barbara Ruban Stage Manager
Debbie Barr as Nancy Twinkle
JoAnne Lemenille Properties Mistress
Garry Tamburro as Fleet Foot
Bill McMeekan Set/Lighting Design
Gregg Mele as Yellow Feather
Glen Crane Sound Design
Steve Lemenille as General Oscar Fairfax, Ret.
Jessica Foerst Lighting Design/Operator
Young Ladies from Eastchester Finishing School:
Michael Bieber Sound Operator
Andrea Barra as Cora
Jessica Foerst Playbill
Mary Jane Ajodah as Gwendolyn
Steve Lemenille Website
Amanda Beyfuss as Henrietta
Victor Cenci Publicity
Rebecca Dias as Maud
Doris Dias & Kristen Paparella
Barbara Ruban & Maury Herman Costumes
Forest Rangers:
Desiree Ewankov & Linda Chester Make-Up
Jeff Woerner as Hank
George Hiltz Set Construction
Travis Catrone as Pete
Sal Villani Set Construction
Christopher Murphy as Slim
Bob Smith Set Construction
Claudio Venancio as Tex
JoAnne Lemenille Set Decor
Barbara Ruban
Bryan Ruban
Renate Bieber
Michael Bieber
Doris Dias
Rebecca Dias
Kay Macrae
Lucille Bills House Managers
Renate Bieber
Neil Ajodah
Kay Macrae
Barbara Goldstein
Pat Murphy

BIOGRAPHIES
The Cast
(In order of appearance)
JOE RODRIGUEZ

(Chief Brown Bear) Joe is thrilled to be making his WestField Community Players debut as Chief Brown Bear in this wonderful production. It has been a great pleasure to work with this enormously talented cast and crew. Past roles include both Mr. Lucas and Mr. Gardiner in The Villagers production of Pride and Prejudice, the Bishop of Basingstoke in The Villager's production of Jekyll & Hyde and as the voice of the plant in the Brook Arts Center production of Little Shop of Horrors. As a voiceover actor, Joe is the narrator of "Ten Mile River" by Paul Griffin, "Crazy Loco" by David Talbot Rice, "It's Just Begun" by DJ Disco Wiz, all available soon on Audible.com. You can find more information about Joe at http://www.voiceoverthespian.com. As always, Joe would like to thank his parents, family and friends for their support and belief in his talents.


A.J. MEEKER

(Corporal "Billy" Jester) A.J. is so very happy to be making his WCP debut with such a talented and fun cast and production staff. A.J. was last seen as Jon Trachtman in MSTC's production of "Love, Sex, and the IRS." Favorite credits include Bobby Child in "Crazy For You", Riff in "West Side Story", and Harry Beaton in "Brigadoon" among others. A.J. would like to thank Drude, Larry, Maury and the rest of the production staff for all of their hard work and this awesome cast for making this such an enjoyable experience. As always, A.J. would also like to thank his family for their support and his girlfriend Corinne for her constant love and inspiration.


JOHN SCHWESKA

(Capt. Big Jim Warington) John has been singing since childhood--much to the youthful chagrin of his baseball captain brother, Bud! John has performed cabaret singing productions in New York, Boston and NJ under the musical direction of Andrew Cooke for over a decade. John has shared his love for the arts in local community theatre and some of his favorite or challenging roles include: Mr Manningham, Angel Street; El Gallo, The Fantasticks; MAX, Lend Me a Tenor, Greg, Sylvia, Alfred—Romance-Romance; Jesus, Godspell; Tinman, The Wizard of Oz, and Gerry, Dancing at Lughnasa (among many others). John also played outrageous roles in the One Act Festivals at Circle Players. He co-directed musical revue fund raisers at Westfield Community Players. John studied voice and acting at the American Academy of Dramatic Arts, and Herbert Berghoff Studio in NYC. John is a Licensed Professional Counselor.


JENNIFER BACIGALUPI

(Little Mary Sunshine) Jennifer is excited to make her Westfield Community Players debut. Some of her past appearances include Jekyll & Hyde – Emma (Villagers), Little Women – Meg (Villagers), Company – Jenny (NENA Productions), The Wizard of Oz – Dorothy (Phoenix Productions), Urinetown – Little Becky Two Shoes (NENA Productions) and West Side Story – Anybodys (Premier Theater Co.). She would like to thank her husband Peter and two kids Jacob and Abby for all their constant love and support.


ARLENE BRITT

(Mme. Ernestine Von Liebedich) Arlene Britt's recent credits include Mrs. Potts in Beauty and the Beast (JCC Metrowest Theatre), Fairy Godmother in Cinderella (plays in the Park), Aunt March in Little Women (Chatham Playhouse), Mrs. Bob in Mrs. Bob Crachit's Wild Christmas Binge (Edison Valley Playhouse), Mrs. Johnstone in Blood Brothers (George Street Playhouse), Miss Clear Lake 1939 in The Buddy Holly Story (Plays in the Park), Madame Dubonnet in The Boyfriend (Cranford Repertory Theatre).

Previous credits include Maria in West Side Story (Edison V alley Playhouse), Magnolia in Showboat (Villagers), Luisa in The Fantasticks (Westfield Community Players and Cranford Dramatic Club), Laurey in Oklahoma (Metropolitan Music Theatre), Jenny in Company, Anne in A Little Night Music (Celebration Playhouse), Hodel in Fidder On The Roof, Maria in Twelfth Night (Rowan University).

Arlene is an adjunct professor at Middlesex County College and a Rising Star Evaluator for the Paper Mill Playhouse. She is also a popular children's entertainer. (www.celebratewithmusic.com). Love to Marissa, Blase and Ron.




DEBBIE BARR

(Nancy Twinkle) is happy to be back at WCP! Past credits include: Farndale...Xmas Carol - "Mercedes" (Circle Players), Noises Off - "Poppy" (Holmdel Theater Company), Lucky Stiff - "Annabel" (Villagers), The Vagina Monologues (Circle), Last of the Red Hot Lovers - "Bobbi Michelle" (WCP), Urinetown - "Hope" (MCC), What the Butler Saw - "Geraldine" (Circle), Fiddler on the Roof - "Tzeitel" (Marlboro Players). She started as a Musical Theater Major at Ithaca College, graduated with a Communication degree from Rutgers, and now works for a toy company in Rahway, NJ. Thanks to family, friends, and coworkers for their constant love and support.


GARRY TAMBURRO

(Fleet Foot) Garry was last seen here at WCP in A Midsummer Night's Dream" back in October. Garry has appeared on local stages in A Man For All Seasons (SHP), A Few Good Men (Strollers), and As You Like It (Trilogy). His last role was in Henry IV as Lord Mortimer with Troupe of Friends. He would like to thank the director, cast and crew for a most pleasurable experience.


GREGG MELE

(Yellow Feather) Gregg is very excited about returning to the Westfield Community Players for another performance after appearing in the comedy "Fools" earlier this season. Gregg has been in many theatrical performances throughout his school years and beyond, recently performing in "Baby" at Summit Playhouse and "Amahl and the Night Visitors" for Stony Hill Players. He attended Montclair State University as an undergraduate student, and went on to complete graduate degree programs at Stevens Institute, Baruch College, New York Law School, and NYU School of Law, and now runs a solo law practice and teaches in graduate programs at Stevens and Fairleigh Dickinson University, but his passion for theater has never faded. He also got married along the way and helped raise two wonderful daughters, Robin and Nancy, to whom his performances are dedicated. He thanks the Players for this opportunity."


STEVE LEMENILLE

(General Oscar Fairfax, Ret.) Steve is making his fourth stage appearance here at WCP this season. Steve has been involved in theatre since his college days at Jersey City State. He is a retired Social Studies teacher and Drama Director of 29 years with the Hackensack Public Schools.

He has acted with Tower Players and the Opera Workshop of Jersey City, StageCrafters (Fairlawn), and Bergen County Players. He has also acted in dinner theatre for Regal Productions.

Some of the roles he portrayed were: Otto Frank in The Diary of Anne Frank (Tower Players), the Grandfather in The Long Christmas Dinner (Tower Players), Ulysses in Tiger At The Gates (Tower Players), Paul Verrall in Born Yesterday (Bergen County Players), Paul in Barefoot in the Park (Fairlawn), and Michael in Second Time Around and the Inspector in A Shot In The Dark (Regal Productions) and the Grandfather in Kurt Wiel's Down in the Valley (Opera Workshop). Steve portrayed Theseus in A Midsummer Night's Dream, Stanley in Death of a Salesman, and The Magistratre in Fools...all for WCP this season.

His directorial credits include: You Can't Take It with You, Harvey, The Man Who Came to Dinner, Gramercy Ghost, George Washington Slept Here, L'il Abner, The King & I, Oklahoma, Sound of Music, The Diary of Anne Frank, Our Town, South Pacific, The Music Man, Rehearsal for Death (all for HMS), Dial M for Murder (Stagecrafters).

Steve is currently the webmaster here at WCP. Steve wishes to thank his wife, JoAnne, for getting him back involved with theatre. "Without her support and love, I can accomplish little. Thank you dear!!" Steve also thanks Naomi Yablonsky, Sherrie Ahlin, Maurice Moran and Drude Roessler for making this a special year. And a SPECIAL THANKS to the Young Ladies from Eastchester Finishing School (Amanda, Andrea, MaryJane, Rebecca): Thanks for your patience and understanding!!! Also, SPECIAL THANKS to Arlene for your professionalism and tolerance with me.




ANDREA BARRA

(Cora: Finishing School Lady ) Andrea Barra is very excited to be returning to Westfield, having been seen here previously as Sister Hubert in Nunsense and Effy in The Spitfire Grill. Other favorite roles include Claire in Proof, Julie in For the Love of Juliet!, Sue Flay in Wagon Wheels West, and Ginger in Book of Days. When not on stage, Andrea is pursuing her PhD in Sociology at Rutgers University. Many thanks to Drude for yet another character who disapproves of everything! As always, to family and friends for all of your support and encouragement...I couldn't do any of it without you. To my lovely Eastchester Finishing School Ladies and the studly Forest Rangers for making this a blast!
MARY JANE AJODAH

(Gwendolyn: Finishing School Lady) is excited to be a part of this WCP production. MaryJane first became involved with WCP during the production of FOOLS where she was part of the stagecrew. MaryJane then went on to perform in WCP's Talent Show case where she exhibited her tremendous and versatile singing ability. She has been singing since the age of four, and began writing original plays at 11. She and her brother, John Wyatt, performed at schools, nursing homes, parks, and festivals. Last summer, her original musical western, A Handful of Dust was produced off-Broadway in NYC with a cast of professional actors. The production was selected as the Village Voice's theater choice for the week in which it ran and was featured in Time Out NY. Thanks to the cast and crew for their talent and dedication! Good to have you on stage again, MaryJane.
AMANDA BEYFUSS

(Henrietta: Finishing School Lady) Amanda is excited to be making her Westfield Community Players debut after a long hiatus from the theatre world. Her previous credits include Audrey in Little Shop of Horrors, Hope in Grandma's Getting Married and Princess #12 in Once Upon A Mattress. While she was taking time off to polish her acting chops, Amanda kept her vocals fresh while hitting the stages of some of NJ's best haunts as the lead singer of Hate Me Boy Corduroy. HMBC has played top venues such as Maxwell's and The Stone Pony. Amanda would like to thank her family, friends, cast and crew for all of their support."
REBECCA DIAS

(Maud: Finishing School Lady) is excited to make her community theatre debut at WCP as Maud. Past credits include Ethel in Moon Over Buffalo and various roles in church pageants. She is part of the Hallelujah Choir at her church. Rebecca is also a student of the Young Artist Institute and will attending the Summer Youth Performance Workshop at the NJPAC. She would like to thank the cast and crew for a wonderful time and her mother for hauling her to and fro and cancelling her vacation!
JEFF WOERNER

(Hank: Forest Ranger) Jeffrey is thrilled to be making his début on the Westfield Community Theater stage. Jeffrey was a student at the American Musical and Dramatic Academy in New York City, where he studied acting and voice. Favorite past performances include: Joseph…(Benjamin), Annie (Bert Healy), Bye, Bye Birdie (Conrad), The Pajama Game (Sid Sorkin), Forever Plaid… (Jinx) and Sexual Perversity in Chicago… (Danny). He was nominated for the Paper Mill Playhouse Rising Star Award for his performance in Annie. Jeffrey would like to thank everyone who made this production possible and everyone who always supports all that he does-especially his wife and parents.
TRAVIS CATRONE

(Pete: Forest Ranger) Travis Catrone is thrilled to be performing in Westfield Community Player's production of Little Mary Sunshine. He is a third year student at Kean University, where he most recently he assistant directed Steven Berkoff's adaptation of Agamemnon. Travis has also been seen in productions of Endgame, Jekyll & Hyde, The Scarlet Pimpernel, and Seussical to name a few.
CHRISTOPHER MURPHY

(Slim: Forest Ranger) is a freshman at Colonia High School. He has been a member of the Pure Energy Performing Dance Team since 2000 and has won many top score awards in regional and national dance competitions. Christopher has been a member of the NJ Tap Ensemble pre-professional group for approximately five years under the directorship of Deborah Mitchell and has performed in New York City as part of Tap City. He is a member of the International Thespian Society, Troup #6677 and has performed in the high school productions of Low Budget Broadway and Thoroughly Modern Millie. Christopher is a member of the Colonia High School men's, mixed, concert and show choir. For the past four years, he has been selected to dance in the Macy's Thanksgiving parade as well as sing at Carnegie hall as a member of Camp Broadway.
CLAUDIO VENANCIO

(Tex: Forest Ranger) Claudio is very happy to be returning to WCP in this production. Claudio portrayed Peter Quince in WCP's production of A Midsummer Night's Dream. He also graced our stage most recently in our Talent Showcase. He has been in such shows as The Odd Couple, Guys and Dolls, and Me and My God. His favorite roles was Pseudolous in A Funny Thing Happened on the Way to the Forum. He is currently attending Union County College.
Production Staff
DRUDE ROESSLER

(Director) Drude Roessler, a lifelong-member of Westfield Community Players, is happy to be directing again for her home club. Past directing credits for WCP include The Spitfire Grill, Romance, Romance, Cole and Applause. She sang in the Liebeslieder quintet in WCP's A Little Night Music and performed in several Talent Shows with her husband Charles. With the Cranford Dramatic Club, she has appeared in several Children's Theater productions, South Pacific, Side by Side by Sondheim and as Mamma Rose in Gypsy. She has also directed Follies, Annie, Forever Plaid and Kiss Me Kate for CDC. For Middlesex County's Plays in the Park she performed the role of Marie in The Most Happy Fella and Meg in Damn Yankees, where she met choreographer Maury Herman. She played Kate in Kiss Me Kate opposite her husband for the Scotch Plains Players right after they were married - slapping each other around the stage and calling each other names was a funny way to start a marriage! The first community theatre show Drude ever directed was the Fantasticks for SPS where she met Larry Rothweiler.

Drude is retired after teaching music in three states for 40 years, mostly in Westfield. She taught at all levels, elementary, middle and high school and directed over 50 student musicals, primarily for Roosevelt Middle School, the Westfield Summer Workshop and Orange Avenue Middle School in Cranford. Drude enjoys keeping up with the many students who participated in her shows, several of whom have gone on to professional careers in music and the theatre. She was selected to direct the New Jersey Region II Middle School Honor Choir as well as the High School Honor Choir during her teaching tenure and presented an Interest Session on Music on Educational TV at the National MENC Convention in Atlanta, GA. She was privileged to teach music for three years over WSRE-TV in Pensacola, Fl, a station owned by the Escambia County School Board, and beamed throughout 80 schools as a supplement to in-class music instruction for first, second and third graders. The manuals she wrote to accompany the three series are still in use today.

Educated at Northwestern University's School of Music, she holds a Bachelor of Music Education and a Master of Music in Performance Voice. She also has done post graduate work at NYU, Westminster Choir College, and at the Orff Institute in Salzburg, Austria, where she earned a certificate in the Carl Orff Method of Music Education. As a graduate student, she won the Louis Sudler Award for Excellence in Oratorio Singing and was very honored to be chosen as a performer for a Master Class with the famed Soprano Lotte Lehmann. She was also selected as Alto Section Leader for 9 of the Robert Shaw Annual Choral Workshops held in Carnegie Hall from 1990 through 1999, even though Charles Dutoit had to be flown in to conduct the final concert due to Mr. Shaw's failing health.

Drude has been a member of the all-professional Chancel Choir at the Crescent Avenue Presbyterian Church in Plainfield for 35 years. She has been the mezzo-soprano soloist in many concerts and recitals there, including Bach's Mass in B Minor, Verdi's Requiem and Handel's Messiah. She also serves on the Board of the Crescent Concert Series as the Patron Chair.

Currently, Drude is the President of the Musical Club of Westfield, a 94 year old organization for the promotion of good music in our schools, our community and in our lives in general. Active members who perform are auditioned and Associate members provide an audience for the monthly meetings held at the First Baptist Church of Westfield which are free and open to the public. Annual scholarships are given to selected students who major in music in college.

An avid golfer, Drude serves on the Women's Board of the Roselle Golf Club as the Tournament Chair and enjoys playing bridge as time allows. The proud mother of daughter Kirsten, she dotes on her two granddaughters, Carlie, 13 and Polly, 9.




KAY MACRAE

(Producer) has been a member of WCP for many, many years---singing, acting and enjoying it all.!! She enjoys singing with the Celebration Singers from Cranford. Kay has been very active in the Musical Club of Westfield for many years. There are also seven handsome grandsons in her life!!


LARRY ROTHWEILER

(Musical Director) Larry began accompanying musicals in 1974 in his home town of South Plainfield, NJ. He has been an active musical director in NY/NJ since then, having nearly all of the standard (and some, not so standard) musical theater repertoire on his resume. Previous credits at WCP include "A Day in Hollywood…", "I Love My Wife" and "The 1940s Radio Hour". Larry would like to thank his future spouse, Danielle for her unending support! When not at the piano, Larry relies on his degree in statistics from Rutgers College to define himself; and he is the father of three wonderful children. He dedicates this show and all future musical endeavors to his late grandmother, who passed recently and who taught him to play the piano (in 1964!). Thanks Mom-mom. I needed an angel… and now I have one. Love…


MAURY HERMAN

(Chorographer)is back after a long hiatus (interrupted by Steve and Joanne). He last appeared here in 1940's Radio Hour. Also with Plays-in-the-Park, McCarter Theater, The Villagers, State Theater, and Papermill Playhouse in: A Chorus Line (Larry), 42nd Street (Andy Lee/Bert Barry), Working (Gasman/Fireman), Apple Tree (Snake), Best Little Whorehouse (Governor), Godspell (Judas), Company, Brigadoon, George M, and Evita. Other choreography/direction: Anything Goes, West Side Story, Hello Dolly, Funny Girl, Sweet Charity.


BARBARA RUBAN

(Stage Manager) started with WCP as property master for many shows before branching out into stage managing and received a Perry Award nomination for props for the production of Angel Street. She also assists with set decoration and costumes. Having been on stage in a couple of productions, she would rather leave the acting to the pros and enjoy being in the backstage "hustle and bustle". Barbara also wrote two original plays which were performed at WCP. In addition, one play was performed in Chatham in the Jersey Voices Festival. She has been on the Board of WCP for two years serving as Director of Performance. A legal assistant by day, she thanks WCP for allowing her to express her creative side and her children and grandchildren for their love and support, which makes it all more gratifying.


JOANNE LEMENILLE

(Properties Mistress) JoAnne was most recently seen in WCP's production of Fools as Lenya Zubritsky. JoAnne now has returned to the production side of performing by handling properties for this show. She began her WCP experience with her role as Mildred WCP's production of The Cemetery Club. Since that time, JoAnne has been the Properties Mistress for our productions and sits on WCP's Board of Directors as Director of Productions. She has alway been involved in theatre since she was a child back in Union with the Teen Stagers. She has also appeared as Polly in The Boyfriend, Anna in New Girl in Town; Eleanor in Second Time Around (for Regal Productions), and Peggy in Front Page. Besides doing props, she has worked on Scenery and Set Design. Her favorite role was Eleanor in Second Time Around because it gave her the chance to play her husband, Steve's, snobbish and self-centered wife. JoAnne is a retired teacher of music from the Clark School system where she was the vocal, instrumental and music theory teacher for over twenty years for which she directed and musical directed the plays for Kumpf School. "I make bead flowers - an old French art of using glass beads." Special thanks to my husband Steve and JoAnn Scanlon for giving me the chance to rekindle my love for the stage, and thanks to a wonderful cast and fabulous crew." It's good to have you back on front stage!!!


JESSICA FOERST

(Lighting Design/ Operator/Playbill) Jessica is not only versatile at operating the light control board, but also sits on the WCP Board of Directors as Director of Playbill. She has aided in the lighting design of this show. She is also extremely talented as a graphic designer. Much of her art work is displayed throughout our website.


GLEN CRANE

(Sound Design)


MIKE BIEBER

(Sound Operator)


VICTOR CENCI

(Publicity)


STEVE LEMENILLE

(Webmaster) In addition to performing on stage for WCP, Steve has the pleasurable role and responsibility of maintaining, designing and updating WCP's website. He hopes this added addition helps in keeping our subscribers well-informed of our theatre.


DORIS DIAS

(Costumes) This is Doris's first show with WCP, and we hope not the last. Her talents are truly amazing. Doris is also the proud mother of Rebecca Dias who plays Maud, a Finishing School Lady


KRISTEN PAPARELLA

(Costumes) This is Kristen's second show with WCP and a change in hats. Kristen was our Props mistress for FOOLS. Welcome back, Kristen!


DESIREE EWANKOV

(Make-Up)Desiree has not only done make-up for WCP for the past few shows, but she has also appeared on stage here at WCP in Born Yesterday as the manicurist and in A Midsummer Night's Dream as Mustardseed. She has also aerved as House Manager most recently.


LINDA CHESTER

(Make-Up)Linda is joining us for the first time, thanks to Desiree. We hope you enjoy the fun. We look forward to having Linda back for future shows.


JULIA BIEBER

(Stage Crew) Julia ia an asset backstage here at WCP. She has worked numerous shows assiting backstage from moving sets, to painting and in general giving of herself to make the productions a success. Julia is the daughter of Mike and Renate Bieber.


BILL MCMEEKAN

(Set/Lighting Design) Bill's first work in stage production was at camp in 1944, then at Pingry and later at college. In 1959, he became a member of The Community Players, and the following year became Lighting Chairman. In this position, he designed and supervised the lighting for over 75 of our productions. Currently he works on construction and is our Technical Designer...work he has done for over 50 productions. He has served on the Board of Directors over 35 years in various positions, and has been Tresurer since 1983. In addition, Bill was the primary designer of the plans that converted our "Clubhouse" into a theatre in 1977 and for the most of the changes and improvement since that time.


GEORGE HILTZ

(Set Construction Chairman)


Back to "Little Mary Sunshine" Page




All Dates subject to change
Photos by: Tchr & J. Foerst


Funding has been made possible in part by the New Jersey State Council on the Arts, Department of State, a partner agency of the National Endowment for the Arts, through a grant administered by the Union County Office of Cultural and Heritage Affairs

---
All photos are the property of WCP. Distribution, reproduction, coping or use of any photo by any means including electronic, print or digital representation is strictly prohibited without the expressed permission of WCP and its assignees.