Show 2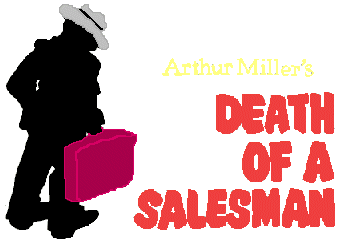 art by: S. Lemenille


A drama by Arthur Miller
Death of a Salesman is the Pulitzer Prize winning play that is considered a classic of American theater. Viewed by many as a caustic attack on the "American Dream" of achieving wealth and success without regard for principle. Death of a Salesman made Arthur Miller and the character Willy Loman household names. Through a series of tragic soul-searching revelations of the life of Willy has lived with his wife Linda, and his sons Biff and Happy and his business associates, we discover how his quest for the "American Dream" has kept him blind to the people who truly love him. A thrilling work of deep and revealing beauty that remains one of the most profound classic dramas of American theater.
Pulitizer Prize for Drama--1949
Tony Award for Best Play--1949
January 10, 17, 18, 23, and 24, 2009


January 16, 2009 Benefit Performance


January 18, 2009 Student rate ($7.00) to Students with valid school ID







Cast and Production Members
| The Cast | The Production/Crew |
| --- | --- |
| Robert Mackasek as Willy Loman | Sherrie Ahlin Director |
| Donne Petito as Linda | Nick Thomas Producer |
| David M. Farrington as Happy | Barbara Ruban Stage Manager |
| Peter Curley as Biff | JoAnne Lemenille Properties Mistress |
| Allistair Williams as Bernard | Bill McMeekan Set Design |
| Susan Murray Tapper as The Woman | Bob Murray Lighting Design |
| Mentha Marley as Charley | Jessica Foerst Lighting Operator |
| Stan Kaplan as Uncle Ben | Glen Crane/Mike Bieber Sound |
| Seth Newfeld as Howard Wagner | Victor Cenci Publicity |
| Danielle Levitt as Jenny | Jessica Foerst Playbill |
| Steve Lemenille as Stanley | Barbara Ruban/JoAnne Lemenille Costumes |
| Felicia Coppola as Mrs. Forsythe | Desiree Ewankov Make-Up |
| Candy Predham as Letta | George Hiltz Set Construction Chairman |
| Kevin Coulson as the Waiter | Bob Smith Set Construction |
| | Sal Villani Set Construction |
| | Paul Kirsh Set Construction |
| | Julia Bieber Props |

BIOGRAPHIES
The Cast
ROBERT MACKASEK

(Willy) Bob's performance experience includes Off-Broadway, cruise ships and regional theater. He has had principal roles in ANYTHING GOES, MY FAIR LADY, GUYS AND DOLLS, and URINETOWN, and has performed in numerous musicals as a member of the ensemble. He has been performing in piano bars, singing and playing piano, for over 40 years. The role of Willy marks Bob's return to the dramatic stage after a "brief" 30 year hiatus. Bob serves on the Board of Trustees of the South Mountain Theater Works, a production company based in Mapelwood. Bob is currently the Chief Executive Officer of Valera Global, Inc., an International luxury chauffeured executive sedan service, a position he assumed in 2005 after practicing law for 25 years. Bob would like to gratefully acknowledge the Director, staff of Westfield Community Players and the marvelous cast for helping him to fulfill an actor's dream….being Willy.


DONNE PETITO

(Linda) After training professionally at the Goodman School of Drama in Chicago, Donne changed career paths and has only recently returned to acting. Favorite roles include Abby Brewster in Arsenic and Old Lace at Villagers, and Widow Quin in Circle Players' Playboy of the Western World (for which she received a Perry Award this year). She has also been spotted Barefoot in the Park as Ethel Banks at the Mighty Oak Players, as Emilia in Chester Theatre's Desdemona, as Alice More in A Man for All Seasons with the Stony Hill Players, and as Dr. Livingston in the Kelsey Theater's Agnes of God.


DAVID M. FARRINGTON

(Happy) David is very happy to be making his WCP debut with Death of a Salesman. He recently moved to New Jersey from Jacksonville, Florida where he began acting when he was 10 years old. He attended Douglas Anderson School of the Arts, a performing arts high school, and FCCJ (Florida Community College at Jacksonville) on a full theatre scholarship. David has a long list of credits both onstage and off including Curley in Of Mice And Men, Tock in The Phantom Tollbooth, Danforth in The Crucible, Austin in True West, Geoffrey in The Lion In Winter, Maurice in Good and Weinberl in Tom Stoppard's On The Razzle, as well as, directing productions of On Tidy Endings and The Universal Language. He moved to New Jersey to attend Kean University where he is currently a junior and is working toward a B.F.A in acting. He was most recently seen as Father Lux in Kean University's production of Our Lady of 121st Street this past November. David would like to thank Holly Logue for throwing his name out there and Sherrie Ahlin for catching it. He would like to thank his mom and his brother for all of their support and that "special someone" for dealing with a stressful, crazy schedule and sticking around anyway! Enjoy the show!


PETER CURLEY

(Biff) Peter was last seen in WCP's production of "A Midsummer Night's Dream" as Demetrius. His favorite roles from other CT productions include Nick in Who's Afraid of Virginia Woolf, Sam Weinberg in A Few Good Men, Jasiau Sadlowski in Polish Joke, Richard Rich in A Man For All Seasons, and Jonathan Brewster in Arsenic and Old Lace, Andrew Aguucheek in Twelveth Night, James Keller in Miracle Worker, and Felix Hackaday in Best of Friends. Other Shakespeare credits include - Taming of the Shrew, Romeo and Juliet, Henry IV, Part I, As You Like It, All's Well That Ends Well, and Measure to Measure.


ALISTAIR WILLIAMS

(Bernard) Alistair Williams has directed, choreographed, and performed theatrical pieces in the United States and Canada. He has been trained by various dance and performing arts centers such as Dance New Amsterdam, the Ailey Extension, and WYACT. In August 2008, Alistair formed Dance Yourself Skinny LLC which is a company that offers fitness dance classes in New Jersey. Alistair is honored and blessed to join the Westfield Community players for this production.


SUSAN MURRAY TAPPER

(The Woman) This will be Susan's first performance outside of New York City where she worked on numerous off-off Broadway shows including The Cherry Orchard, The Love of the Nightingale and most recently a new play with The New York Fringe Festival. Susan has also done a number of independent/experimental film projects and is very glad to be included in this wonderful cast for Death of a Salesman.


MENTHA MARLEY

(Charley) Mentha Marley is a resident of Maplewood, NJ where he has been active off and on with The Strollers Community Theater for many years. For The Strollers he has directed FOLLIES, MARVIN'S ROOM and AESOP'S FALLABLES. On stage with The Strollers Mentha appeared in THE BOYS NEXT DOOR, ARMS AND THE MAN and URINETOWN the Musical. Before moving to Maplewood Mentha lived in New York City and has worked Off Broadway and in Regional Theatre as an actor and director. These days he spends most of his time as a father of two children, Drew and Anthea, and loving husband to his wife Janine. DEATH OF A SALESMAN is his first production with Westfield and he would like to thank Sherrie Ahlin for the opportunity to appear in one of his favorite plays working with one of his best friends.


STAN KAPLAN

(Uncle Ben) has been a member of WCP for 12 years. Some of his past roles include Senator Hedges in Born Yesterday, Sam in The Cemetery Club, Father in There Goes The Bride, Mr. Green in Visiting Mr. Green, and John/Judge in Much Ado About Nothing. His favorite role was Albert in Dear Ruth, his high school senior play. He's a retired educator, enjoys his grandchildren, is kind of a fitness nut, and loves going to the ballet.


SETH NEWFELD

(Howard Wagner) Seth is grateful to be making his debut with WCP in Arthur Millers' American classic. Seth was just seen in the ensemble in Summit Playhouses' production of Baby. After completing his training in the Meisner Technique with Kathryn Gately at the Gately/Poole studio in NYC in 1988, Seth went on to grace stages from North Carolina to Anchorage, Theatre Row to SOHO and the East Village. Fave roles include Alan in Equus and Malaki Malice in Duffy and the Devil and Other Folk Tales. Seth's other passions include Yoga, his wife Stacy and daughters Abbi and Hana. SGMKJ!


DANIELLE LEVITT

(Jenny) Danielle was last seen in the role of Peasblossom in "A Midsummer Night's Dream" here at WCP having returned to the stage after a nine-year hiatus. She played Francis Flute in A Midsummer Night's Dream at The Leonia Players Guild. Other relatively recent roles include Chloe in Tom Stoppard's Arcadia at the Greenbelt Community Theatre and Eve in Adam and Eve and Barbarino. She'd like to thank her family for all their support and especially her daughters for making her audition again. Mommy did it!


STEVE LEMENILLE

(Stanley) Steve was last seen here at WCP as Theseus in "A Midsummer Night's Dream" which marked his debut with WCP. Steve has been involved in theatre since his college days at Jersey City State. He is a retired Social Studies teacher and Drama Director of 29 years with the Hackensack Public Schools. He has acted with Tower Players and the Opera Workshop of Jersey City, Fairlawn Players, and Bergen County Players. He has also acted in dinner theatre for Regal Productions. Some of the roles he portrayed were: Otto Frank in The Diary of Anne Frank (Tower Players), the Grandfather in The Long Christmas Dinner (Tower Players), Ulysses in Tiger At The Gates (Tower Players), Paul Verrall in Born Yesterday (Bergen County Players), Paul in Barefoot in the Park (Fairlawn), and Michael in Second Time Around and the Inspector in A Shot In The Dark (Regal Productions) and the Grandfather in Kurt Wiel's Down in the Valley. His directorial credits include: Dial M for Murder (Fairlawn), You Can't Take It with You, Harvey, The Man Who Came to Dinner, Gramercy Ghost, George Washington Slept Here, L'il Abner, The King & I, Oklahoma, Sound of Music, The Diary of Anne Frank, Our Town, South Pacific, The Music Man, Rehearsal for Death (all for HMS). Steve is currently the webmaster here at WCP. Steve wishes to thank his wife, JoAnne, for getting him back involved with theatre. "Without her support and love, I can accomplish little. Thank you dear!!"


FELICIA COPPOLA

(Miss Forsythe) Felicia is delighted to be involved in her first production at the Westfield Community Players. Felicia graduated from NYU's Tisch School of Arts with a concentration in classical theatre. In years past, she has taught acting to children at The Growing Stage Theatre as well as acting in shows. Her latest role was playing Phebe in As You Like It this past summer. Felicia would like to dedicate her performances to her family.


CANDY PREDHAM

(Letta) Candy portrayed Hermia in WCP's last production of "A Midsummer Night's Dream". Previously, she was seen as Candy Starr in One Flew Over the Cuckoo's Nest for the Bergen County Players. Candy also played Fleance and the Gentlewoman in Macbeth and she was in "Dead Man Walking". Candy Predham is originally from the Jersey Shore, but currently resides in Montclair. Candy graduated from Drexel University in Philadelphia with a major in music; she currently works for Broadcast Music Incorporated in their International Department. Candy is currently a student pilot and volunteers at the Bergen County Animal Shelter. She would like to thank Mom, Bill, Kim, Ron, Peter and Mike for their support, and to Barbara and Sherrie for letting her be a part of the cast.


KEVIN COULSON

(the Waiter) Kevin is marking his WCP stage debut with this performance. Kevin was part of the wonderful backstage crew in "A Midsummer Night's Dream". Glad to have him in front of the curtain!!


Production Staff
SHERRIE AHLIN

(Director) Sherrie has directed numerous plays in and around New Jersey including Sunday on the Rocks at The 14th Street Playhouse, The Women for The Women's Theatre Company, Brooklyn Boy for Summit Playhouse, The Sisters Rosenswieg for The Attic Ensemble, Fringe Festival finalist Mary Brigit Poppleton at SOPAC and Vagina Monologues at Luna Stage. Other favorites include, Our Town, Over the River and Through the Woods, Quilters and Urinetown for which she was nominated for a Perry Award for best direction of a musical. In addition to thanking the fabulous cast of Death of a Salesman, Sherrie would like to thank Letty Hudak and all the talented and creative members of Westfield Community Players for this opportunity; and her husband, Don, for every good thing.


NICK THOMAS

(Producer) This is Nick's first show with WCP. Nick has directed and produced many shows in NJ. Nick's favorite onstage roles include: Big Jules in "Guys and Dolls" and Paul in "You Can't Take It With You". Nick is very grateful for this opportunity with WCP and looks forward to a long relationship with them. Nick would like to thank the cast and crew for all their time and hard work. Nick would like to dedicate this show to Letty and Sherrie and thank them for the opportunity to work on the best piece of literature ever.


BARBARA RUBAN

(Stage Manager/Set Decor) has been working with Westfield Community Players for 7 years. She has been property master on many shows, including Angel Street for which she was nominated for a Perry Award. She has also done set designing and decoration and appeared in American Daughter and The Best Man. Barbara also wrote and directed two original plays which were performed at WCP and in Chatham's New Jersey Voices Festival. "Thanks to Westfield Community Players for the opportunity to explore my creative side and to my children and grandchildren for their support and love."


JOANNE LEMENILLE

(Properties Mistress/Set Decor)Although JoAnne is backstage on this production, she did grace WCP's stage in The Cemetery Club starring as Mildred. She has alway been involved in theatre since she was a child back in Union with the Teen Stagers. She has also appeared as Polly in The Boyfriend, Anna in New Girl in Town; Eleanor in Second Time Around (for Regal Productions), and Peggy in Front Page. Besides doing props, she has worked on Scenery and Set Design. Her favorite role was Eleanor in Second Time Around because it gave her the chance to play her husband, Steve's, snobbish and self-centered wife. JoAnne is a retired teacher of music from the Clark School system where she was the vocal, instrumental and music theory teacher for over twenty years for which she directed and musical directed the plays for Kumpf School. "I make bead flowers - an old French art of using glass beads." Special thanks to my husband Steve and JoAnn Scanlon for giving me the chance to rekindle my love for the stage, and thanks to a wonderful cast and fabulous crew."


BOB MURRAY

(Lighting Designer) is designing lights for all of our productions this season. He is a veteran lighting designer, technical director, and stage technician (I.A.T.S.E.) His professional credits include The Newark Symphony Hall Summer Festival, George Street Theater, Crossroads Theater, and Paper Mill Playhouse. He has also been affiliated with the Bickford Theater and other N.J. Theaters. Most recently, Bob has worked on The Heiress for Stony Hill Players and Over the River Through the Woods with Act IV Productions.


JESSICA FOERST

(Lighting Operator/Playbill)


GLEN CRANE

(Sound)


MIKE BIEBER

(Sound)


VICTOR CENCI

(Publicity)


BARBARA RUBAN/JOANNE LEMENILLE

(Costumes)


DESIREE EWANKOV

(Make-Up)


KEVIN COULSON

(Props) Not only is Kevin performing on stage for WCP in this production, but he is an essential part of our backstage crew, handling the props. Kevin got his first experience in this integral part of any stage production when he was part of our crew in "A Midsummer Night's Dream."


JULIA BIEBER

(Props)


BILL MCMEEKAN

(Set Design) Bill's first work in stage production was at camp in 1944, then at Pingry and later at college. In 1959, he became a member of The Community Players, and the following year became Lighting Chairman. In this position, he designed and supervised the lighting for over 75 of our productions. Currently he works on construction and is our Technical Designer...work he has done for over 50 productions. He has served on the Board of Directors over 35 years in various positions, and has been Tresurer since 1983. In addition, Bill was the primary designer of the plans that converted our "Clubhouse" into a theatre in 1977 and for the most of the changes and improvement since that time.


GEORGE HILTZ

(Set Construction Chairman)


Back to "Death of a Salesman" Page




All Dates subject to change
Photos by: Tchr & J. Foerst


Funding has been made possible in part by the New Jersey State Council on the Arts, Department of State, a partner agency of the National Endowment for the Arts, through a grant administered by the Union County Office of Cultural and Heritage Affairs

---